Computer Design Project Informed by Gerontechnology Leads to Outstanding Research Award: Katherine McGee, '22
May 10, 2022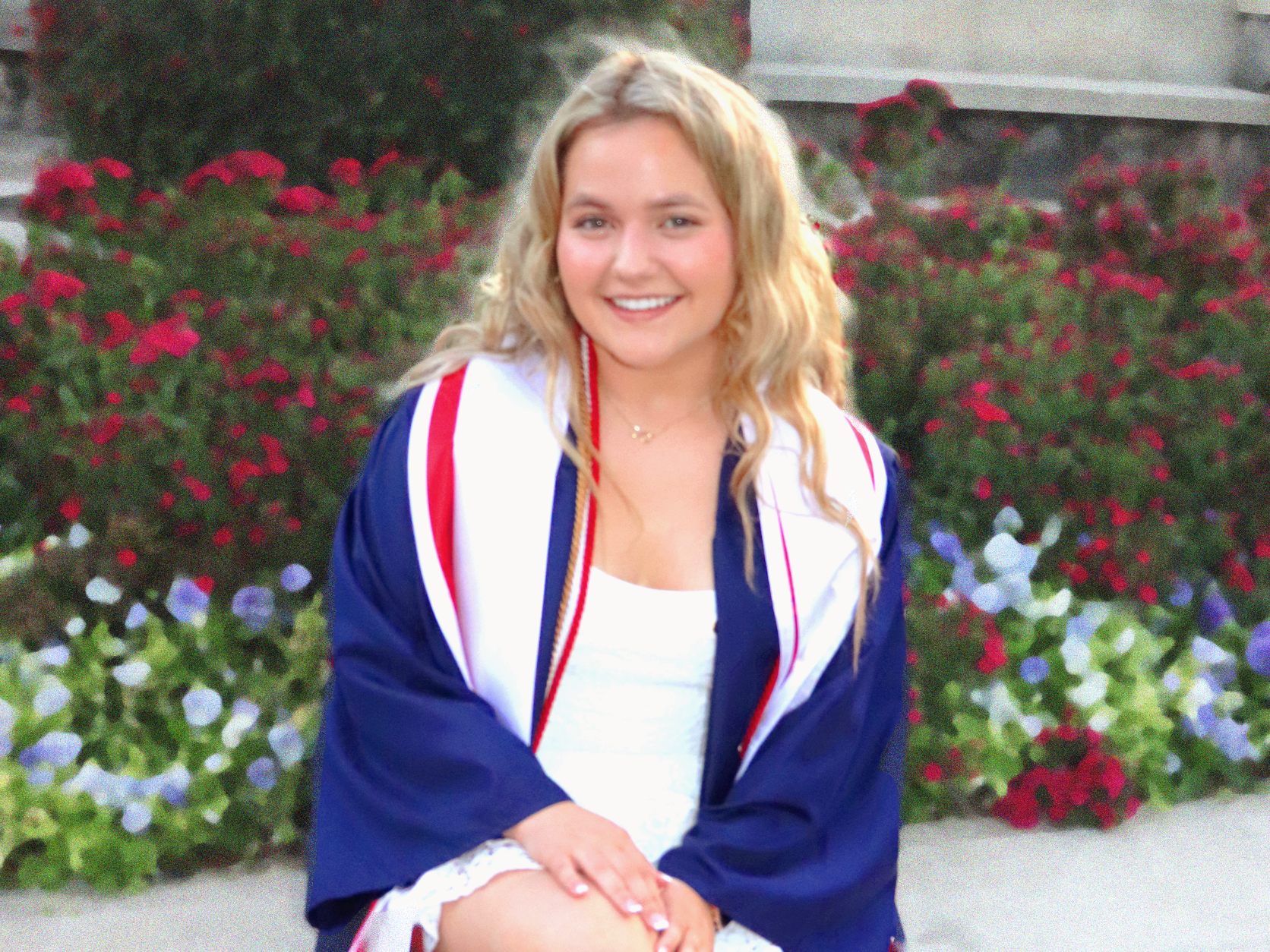 Katherine "Kat" McGee, an Honors student who is graduating with a 4.0 GPA in Communication and Computer Science and a minor in Studio Art, is the recipient of the SBS Outstanding Undergraduate Research Award for spring 2022. This award recognizes a graduating senior in the College of SBS who has demonstrated academic achievement, originality, and creativity in an independent, undergraduate research project.
Kat received the Bill Mensch Prize for her Honors thesis and was the Honors First-Year Project Category Winner. She is also president of the Lambda Pi Eta Communication Honor Society and a TA and tutor with the Department of Computer Science.
English Associate Professor Ann Shivers-McNair served as Kat's Honors thesis advisor. She explains that Kat's project, "A Human-Centered Approach to Design: Gamifying Fundamentals to Aid Computer Literacy," offers a way to support older people's confidence with computer-use fundamentals – especially icons, gestures, and terminology – through a low-stakes, gamified program prototype.
Kat began her study of gerontechnology – that is, aligning existing and new technologies to the needs and experiences of older people – with Communication Assistant Professor Dam Hee Kim, who notes that Kat impressed with her ability to initiate and conduct original research with her interdisciplinary background in communication, computer science, and studio arts.
"Kat's work in gerontechnology is timely and aligns with the University of Arizona's land grant mission in a state where older people represent an increasing share of a population that is also racially and ethnically diverse," wrote the nominating group led by Communication Professor of Practice Kyle Tusing. "Crucially, Kat's program prototype resists deficit models of aging in its affirming orientation to gamifying computer fundamentals and also resists the erasure of people of color in the program's visuals."
Kat says older people represent one of the most marginalized groups in relation to computers.
"Computers first and foremost should serve as an aid to the user," Kat said. "The term 'user' should be representative of the diverse backgrounds that everyone brings when they touch technology. The design used to connect programs to users should be flexible and cater to the needs of the least experienced user."
"I have absolutely loved my time at U of A," Kat said. "The intersection of communication, computer science, and art is where I have found my passion, and I am fortunate to have had incredibly supportive faculty throughout my journey. Everyone in the Department of Communication knows the name of the game: They are always on top of communicating and getting things done."
This summer, Kat will be involved in a Biosphere 2 residency where she will be communicating science through art along with some of her Motion Design classmates.
"I will also be applying to careers in User Experience Design which will utilize the disciplines I have studied at the U of A," Kat said. "I look forward to becoming a resource for future generations of Wildcats. Bear Down!"