Creative Climate Leadership Course Co-Hosted by University of Arizona
March 5, 2020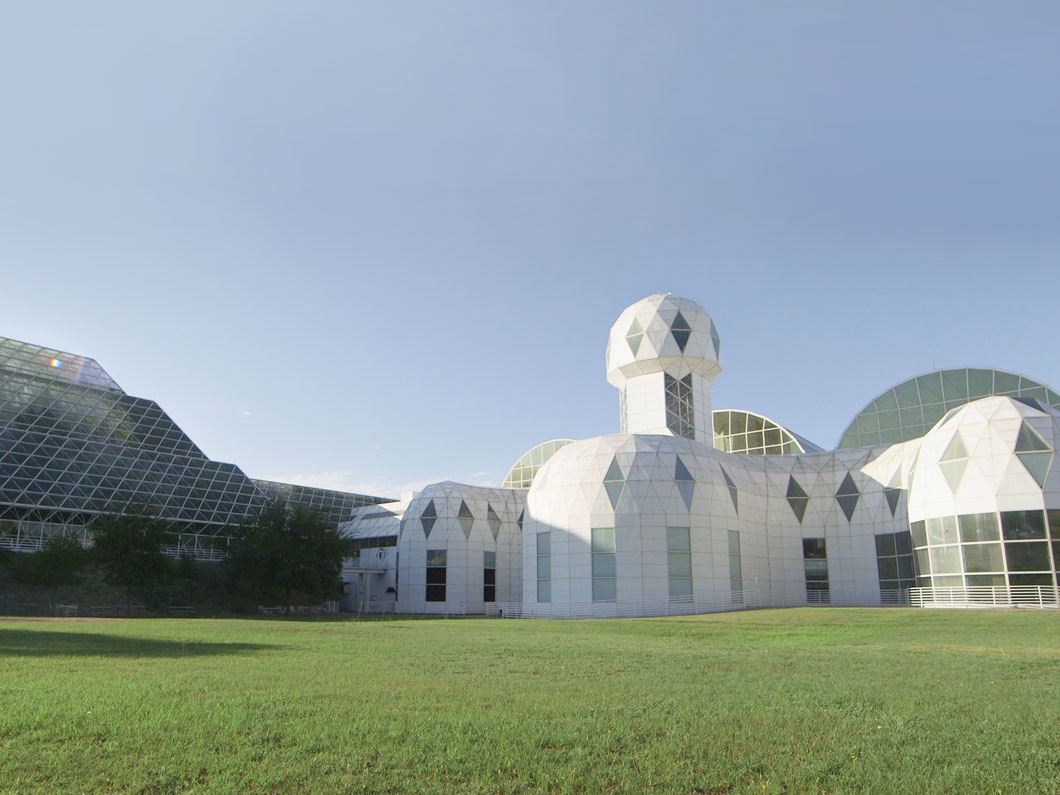 The Creative Climate Leadership, or CCL, training course will be held March 8-14, 2020, at Biosphere 2 in Tucson, Arizona – the first time CCL has been held in the United States. The University of Arizona School of Geography and Development, is co-hosting the course.
CCL – which was developed by the internationally recognized, London-based organization, Julie's Bicycle –  is designed for artists, cultural workers and change makers working outside of the arts interested in using creative methodologies and collaboration to address climate and environmental challenges.
Twenty-five people from across the country will participate in the training, including three from the University of Arizona: Diana Marie Delgado, literary director of the Poetry Center; Ellen McMahon, professor and associate dean in the School of Art; and Betsy Wilkening, coordinator of Arizona Project WET. Kimi Eisele, communications manager of the Southwest Folklife Alliance, a nonprofit affiliate of the College of Social and Behavioral Sciences, is also a participant.   
"This is an amazing opportunity to share ideas with cultural leaders and artists around the country about how we can communicate about and respond to the climate crisis," said Diana Liverman, Regents Professor and director of UArizona School of Geography and Development, which is housed in the College of Social and Behavioral Sciences. "I've been on the board of Julie's Bicycle (who will lead this workshop) for many years, and they have transformed thinking and action across music, museums, art and theatre across the U.K. and Europe. I am so glad they are bringing this program to the U.S. and to Tucson."
According to CCL's website: "Artists and the wider cultural community have a unique and critical role: they deal with the art of the possible and influence new ways of being, doing and thinking. Creative Climate Leadership supports cultural professionals to apply these qualities to the climate challenge."
CCL provides a week-long intensive residential program of leadership development, learning, and peer-to-peer knowledge exchange. The intensive is followed by six months of mentorship and inclusion in an ongoing international network of colleagues that supports ongoing action, learning and exchange.
CCL is presented in the United States thanks to a collaboration of EcoArts Connections, the University of Arizona, and the Colorado European Union Center of Excellence at the University of Colorado-Boulder.
CCL USA is made possible thanks to funding from the National Endowment for the Arts; University of Arizona Program in Environment and Sustainable Development; Women's Foundation of Colorado; University of Arizona Agnese Nelms Haury Program in Environment and Social Justice; University of Arizona, Vice President for the Arts; and Colorado European Union Center for Excellence at the University of Colorado-Boulder.