Domestic Violence Survivor Empowers Others, Receives Provost Award: Lauren Easter, '20
May 5, 2020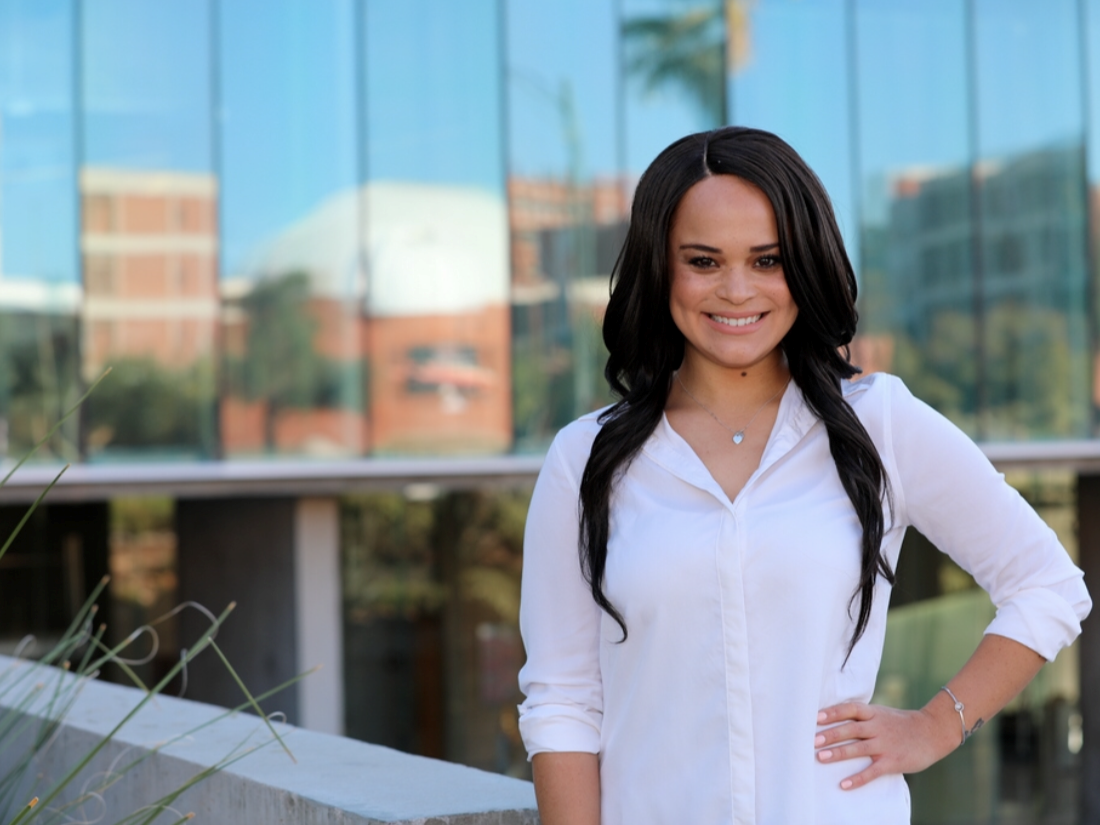 Lauren Easter has received several prestigious University of Arizona awards, including the Centennial Award and the Provost Award! Lauren will be receiving a Bachelor of Arts in both law and philosophy and is in the accelerated master's program for legal studies concentrating in human rights.
"My experience as a law and philosophy major has been nothing short of extraordinary," Lauren said. "My professors have been wonderful and my advisors have worked diligently to make all of my achievements a possibility. I am thankful that the university has accepted my story and has provided me with opportunities to empower others. I am proud to be a survivor, and I stand on the shoulders of the strong women who have come before me. I am devoted to carrying on their legacy."
The below profile is from the Dean of Student's website:
Lauren Easter was born and raised in the Midwest and moved to Phoenix, Arizona in 2009. Lauren is a student, mother, and survivor of domestic violence and sexual assault. She endured a five-year abusive relationship where she was physically, mentally, and sexually abused. At the age of 24, Lauren left her abuser – a decision that almost cost her her life and left her homeless. While in a women's shelter, she recognized the need to finish school and be a role model for her son, who has recently been diagnosed with autism.
Lauren works full-time as a paralegal to support her family in addition to advocating for survivors of domestic violence and sexual assault. Lauren has spoken at various forums, where she shares her story of strength and perseverance. She currently volunteers with Emerge! Center Against Domestic Abuse, assisting women impacted by domestic violence.  
Lauren has held several leadership positions. She is a University Endorsed Leader and serves on both the American Enterprise Institute Executive Council and the Board of Directors for the Tucson Paralegal Association. She is an All-Arizona Academic Team Scholar, Gold Coca-Cola Scholar, and Guistwhite Scholar. Lauren has been honored as a Magellan Circle Scholar and recognized as an outstanding student by the Rombach Institute. She is a member of the Honors College and is working on her thesis exploring Germany's corporate governance structure and how it promotes more women into leadership positions in the private and public sectors.
After graduation, Lauren will pursue a dual MBA and JD. She is seeking to become an advocate attorney for survivors of domestic violence and sexual assault, as well as an international human rights lawyer championing women's rights. She intends to create a scholarship foundation to help support the educational needs of women and girls around the world.