Finding Solutions to Poverty and Homelessness
March 7, 2022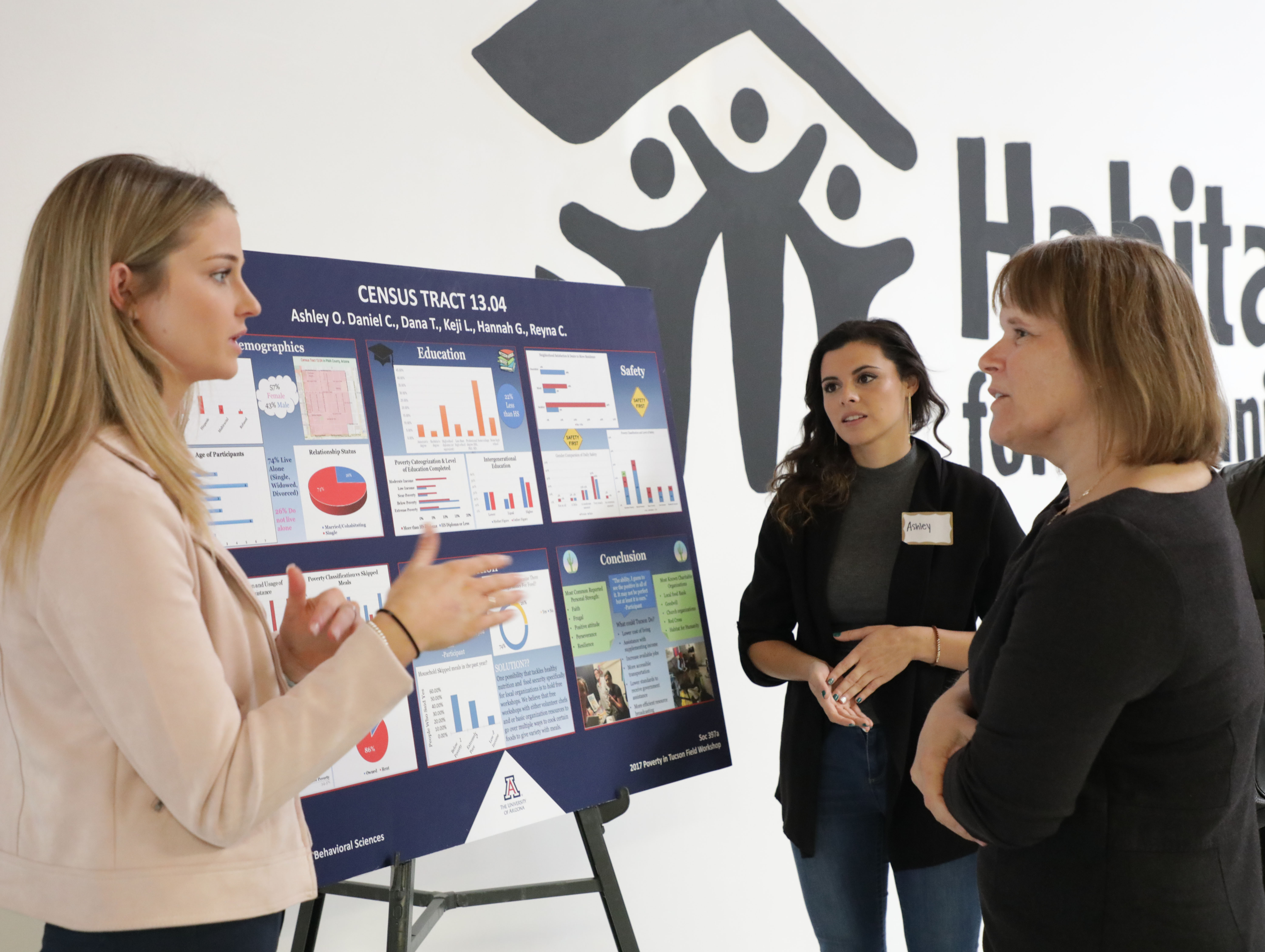 Over the past seven years, students in the Poverty in Tucson Field Workshop have interviewed low-income households in Tucson, gathering information on a variety of topics, including housing, financial literacy, accessing services, neighborhood satisfaction, and health.
At the end of the semester, the class presents their findings to more than 200 community members, city officials, and nonprofit organizers to help them better understand the causes and consequences of poverty, which impacts 25% of households and more than 33% of children inTucson.
The workshop is part of the Poverty Project, which is run by Sociology Professor Brian Mayer in collaboration with local nonprofits, including Habitat for Humanity Tucson, the Community Foundation for Southern Arizona, and the Community Food Bank of Southern Arizona.
Last year, Mayer also launched a class called "Building Healthy Communities," in which students pitch their ideas on how to improve the quality of life in Tucson neighborhoods.
Now, a new $200,000 gift from the Garcia Family Foundation will help the Poverty Project expand its capacity and increase its impact. A major supporter of the University of Arizona, the Foundation previously committed $4 million to fund scholarships for students in the W.A. Franke Honors College; it also supports the Fostering Success Program.
Based in Tempe, Ariz., the Garcia Family Foundation was established in 1996 and focuses on ending homelessness and supporting post-secondary education in Arizona.
"For us, this project brings both of those pieces together," said Jon Ehlinger, president of the Garcia Family Foundation. "In working with the university, we're supporting the post-secondary educational side, particularly with the work that Professor Mayer is doing in his class. He's getting students out in the field, not only helping them see what people are experiencing, but also helping move forward our knowledge in the area and better addressing some of these problems."
Ehlinger adds that the Foundation, which has made a sizable donation to combat homelessness in Maricopa County, wants to be active throughout the state and appreciates that the Poverty Project examines various issues connected to homelessness in Tucson. "Some people are just one financial disaster away from reaching that point," Ehlinger said.
Applying the Data, Serving the Community
The Garcia Family Foundation's focus on homelessness connects to one of the Poverty Project's major findings over the years – that most low-income households in Tucson are "housing overburdened," spending more than a third of their income on rent and utilities. The precariousness of that situation was heightened during the pandemic.
This past fall, students in the Poverty in Tucson Field Workshop worked with the county's eviction-prevention team to interview households facing eviction to learn more about the challenges of finding affordable housing in Southern Arizona. Mayer wants the Poverty Project to continue to follow-up with those who received eviction-prevention funds, especially as the rise of home prices translates into fewer affordable housing options.
"You gave [people] this one-time payment to help stave off eviction," Mayer said. "What trajectory does that put them on and what future risks and challenges and problems are they going to face?"
Funding from the Garcia Family Foundation will help the Poverty Project gather this type of information and also find additional ways to use the data collected in previous semesters to improve the conditions of people in Tucson.
"One of the things I'm really excited about is we're creating student research awards to help students who want to go further into the data," Mayer said.
The Undergraduate Research in Poverty Prevention Awards will go to students wanting to develop projects related to poverty and eviction. The students will then collaborate with Mayer on a research paper in a subsequent semester.
Sociology major Jailyn Sloane is one of the first recipients of the research award.
"Dr. Mayer and I will be working together to explore and research the damage that an eviction can have on an individual's life for years," Sloane said. She plans to research Eviction Record Expungement and how it could be used in Tucson "to minimize perpetual poverty and all of the hardships that go along with it."
"I am honored to be receiving this award, and I feel passionate about the topic of poverty," Sloane said. "Eviction Record Expungement is not frequently discussed as a viable option to mitigate the overwhelming issue that is poverty. It is my objective to educate myself in-depth on this topic and ultimately present practical solutions to combat the suffering that goes on within our own neighborhoods."
The gift from the Garcia Family Foundation will also fund two to three paid internships in the spring for students who want to work in organizations addressing poverty and evictions in Southern Arizona, particularly for students who participated in the Poverty Workshop.
"The idea is that they can take some of the lessons and insights they've learned from the Poverty Project into an internship opportunity," Mayer said.
Mayer also wants to increase engagement with community groups and share "bite-sized" findings through social media and events. A graduate research assistant will be hired to help nonprofits and government groups that need more tailored or in-depth information from the collected data.
Mayer said the gift was useful in helping him brainstorm the next steps of the Poverty Project. In addition to providing more service to community groups that could benefit from the data, he wants the program to empower students to get more involved and to gain the skills and experience to become community leaders.
"I'm very thankful for this gift to increase the capacity of the Poverty Project," Mayer said. "Now more than ever, the lack of affordable housing is a problem. With the pandemic, people are still trying to recover so that they can pay their rent. Other folks are just looking for a stable, affordable place to live. And so understanding what that dynamic looks like, what are the paths forward, and where there are opportunities to help is critical to addressing the affordable housing crisis."
##
This story was included in the spring 2022 Developments newsletter.