First-generation student publishes poetry book 'A Black Girl's Truth': Destiny Gilchrist, '22
Dec. 12, 2022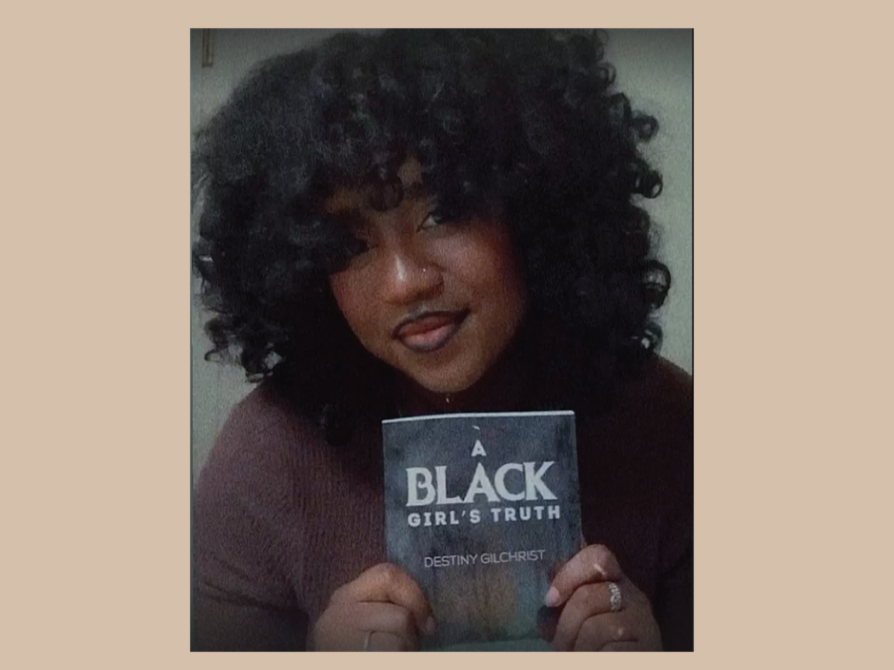 Destiny Gilchrist, who is graduating with a double major in Creative Writing and English, is the recipient of the SBS Student Success Award in fall 2022, which is given to a graduating senior who is a first-generation college student.
Destiny's love of reading started in kindergarten when she picked up Clifford the Big Red Dog for the first time. During high school, she decided she wanted to be an author as her career, and on November 30, 2022, her book of poetry, A Black Girl's Truth, was published by Austin Macauley Publishers.
"I knew that the first piece that I put out into the world had to be related to poetry and it had to be about my experience growing up as a colored woman," Destiny said. " I wanted to share experiences that I know that other people can see themselves in because a lot of the poems are raw and truthful."
English Professor Paul Hurh said publishing a book is "an amazing achievement for an undergraduate."
"Destiny is a strong student who has overcome challenges to achieve remarkable success at the undergraduate level," Hurh. "As a first-generation student, she understands the importance of her college career, not just for her own future, but also the future for her community. She has said that she worked to show her younger siblings that 'college for my family is indeed possible.'"
"In my class, Destiny has shown herself to be a careful and attentive reader of older texts, and she is adept at drawing lines of relation between the ideas of the works and the world of today," Hurh said. "I have been impressed with her thoughtful contributions, and also with her genuine passion for the subject and for learning."
Ann Shivers-McNair, associate professor of English, and Hurh wrote, "Across and beyond our classes, Destiny not only contributes to her communities, but she also leads and inspires those around her by embracing growth, honoring her family, and sharing her experiences and insights with others."
Destiny has had a wonderful experience as a student at the University of Arizona.
"Whenever I'm taking SBS classes, professors just really want you to get your work out there, while still showing you ways to make it better. It's never like 'This is what you did wrong.' It's 'How can we improve this?' And I really love that," Destiny said.
Destiny added, 'One of the biggest lessons I've learned is when to expand my work and when to synthesize. And learning how to be comfortable reading my work out loud with my own voice, with my own pacing – that way I can see the mistakes before I submit anything."
This semester, Destiny has enjoyed interning with Pine Reads Review, an online children's and young adult literature publication run by UArizona undergraduates.
"It's an amazing internship," Destiny said. "The staff and the students I'm working with are so lovely, and we all care about the same things. And I also love whenever we're able to do interviews with other authors."
"I want to thank the entire SBS community because of the skills I have gathered over the years," Destiny said. " I want to thank those who helped push my thinking, challenge my process, and engaged with my work. The committed teachers and staff helped me expand my writing in a meaningful way. I was taught how to use my voice through words and now I get the opportunity to share that with the world."
What's next for Destiny?
"I love children, and so teaching is something that I wanted to do a little bit later," Destiny said. "But I think I'm interested in doing public relations while also working on my own writing."