First-Generation Student Tackles Poverty in Tucson: Jailyn Sloane, '23
May 2, 2023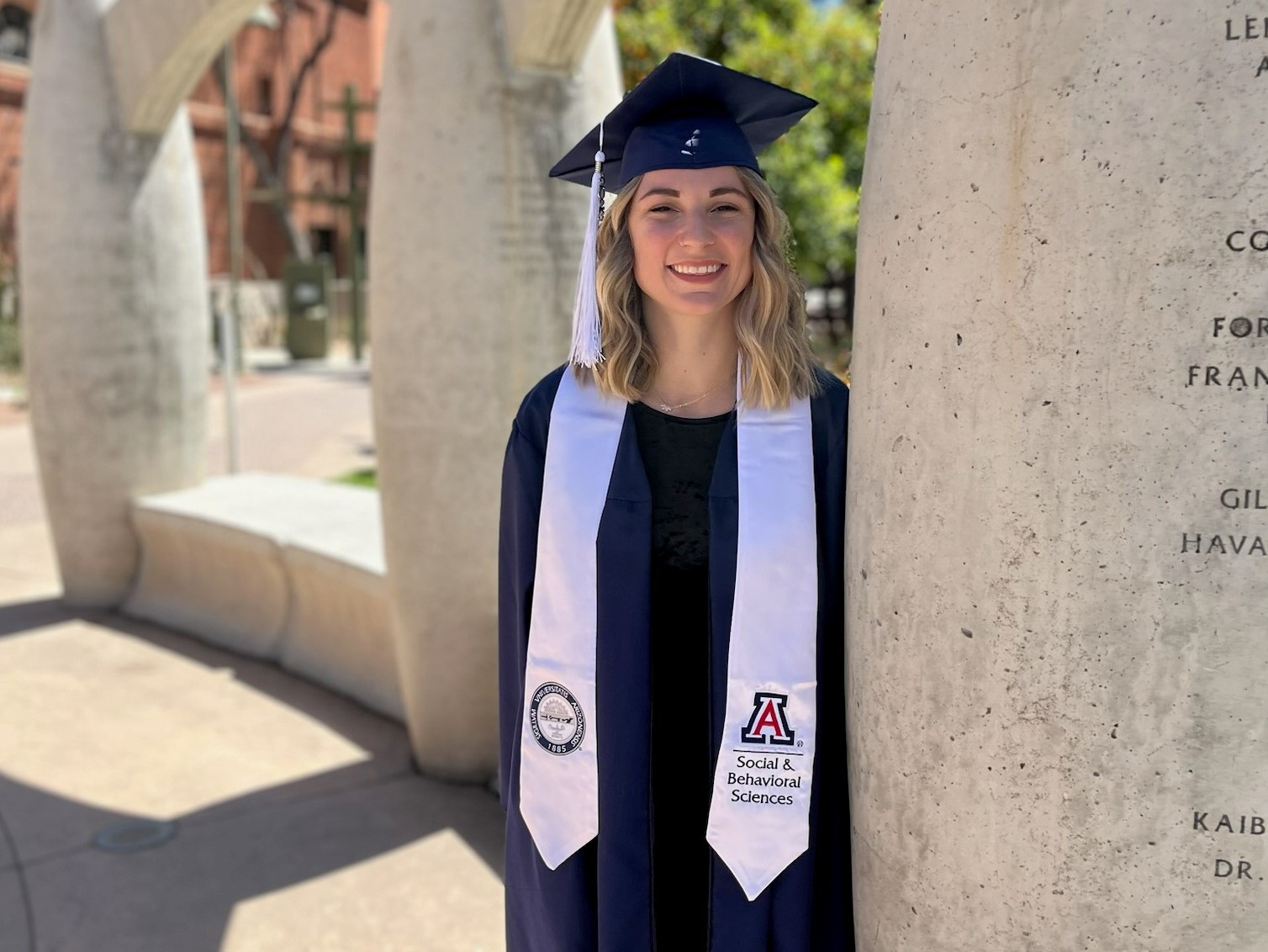 Jailyn Sloane, who is graduating with a major in sociology and a minor in criminology, is the recipient of the spring 2023 SBS Student Success Award, which is given to a graduating senior who is a first-generation college student.
Raised by her grandparents, Jailyn is a first-generation student who, after facing challenges on her path to her degree, is now set to graduate at the age of 27.
Sociology Professor Brian Mayer, who nominated Jailyn for this award, first met her when she was a student in his SOC 397a Poverty Workshop, where she excelled in the classroom work as well as the fieldwork portion of the course. Mayer invited Jailyn to complete an independent study and develop a research project related to the data gathered in the Poverty Workshop.
Jailyn became the first recipient of the Tucson Poverty Project's Poverty Policy Research Fellowship, funded by the Garcia Family Foundation. In this position, Jailyn worked with the nonprofit legal services firm Wildfire (formerly the Community Action Agency) based in Phoenix.
Jailyn developed a policy brief in support of legislation that aimed to reduce the burden on renters by expunging prior eviction records that had since been legally resolved by the renter. Preventing the prior evictions from appearing on the tenant's background checks in the rental application process can mitigate the perpetuation of poverty caused by previous evictions that oftentimes haunt the renter for years following the eviction, Jailyn said. In fall 2022, the policy proposal passed by the Arizona State Legislature.
In fall 2022, Mayer invited Jailyn to return to the SOC 397a Poverty Workshop as a preceptor. Jailyn received an AmeriCorps internship as a Research Support Specialist who supported both the Poverty Workshop and Pima County Office of Community & Workforce Development in the development of anti-poverty research and policy.
In spring 2023, Jailyn continued to work as a research assistant for the Poverty Workshop and is a co-author of a white paper funded through the Eller College of Management's Making Action Possible (MAP) program.
"The School of Sociology has had my back since I started as a transfer student in 2021," Jailyn said. "I was able to narrow down my specific interests within the study of Sociology pretty quickly into my U of A journey. This certainly had a lot to do with one of the first classes I ever took here, which was SOC 397a, taught by Dr. Brian Mayer."
Jailyn continued, "Throughout the remaining duration of my undergraduate degree, I have been working with Brian on various research projects pertaining to poverty in our community. I couldn't ask for a more supportive community at the University of Arizona and it is very bittersweet to be graduating!"
Jailyn Is applying to law school where she wants to apply the knowledge she's learned as a sociology major to improve society and representation of the socially vulnerable.