First-generation Student Thrives in History Major: Monique Davila, '20
May 5, 2020
History major Monique Davila, recipient of the SBS Student Success Award, has overcome personal hardship to flourish at the University of Arizona, conducting research on Diné youth and volunteering at the Arizona Historical Society.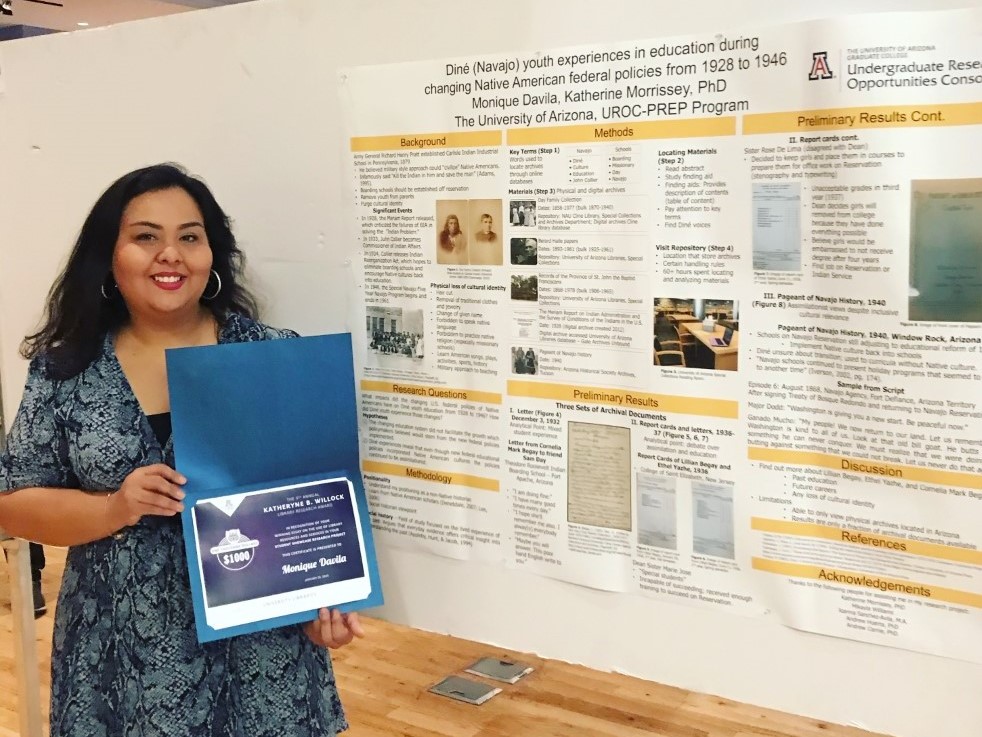 Monique Davila is graduating from the University of Arizona with a 4.0 GPA and a B.A. in history and a minor in library and information sciences.
Monique is the recipient of the SBS Student Success Award, which is given to a graduating senior who is a first-generation college student. Monique has received several other scholarships and grants, including a Magellan Circle Scholarship and the Katheryne B. Willock Library Research Award from the University of Arizona Libraries.
During her time at UArizona, Monique conducted research on Diné (Navajo) youth, identity and education during a pivotal mid-20th century period of educational reform. She participated in the Undergraduate Research Opportunities Consortium (UROC) program and published a peer-reviewed article in Footnotes.
Motivated by her commitment to develop a South Tucson Mexican-American community museum, Monique has volunteered at the Arizona Historical Society for three years to learn about museums and public history.
She also joined Native Soar this semester, which equips undergraduate students to mentor local middle and high school students. 
Monique's achievements are all the more remarkable given the challenges of her life. As a young adult, Monique coped with significant difficulties, including dealing with the unexpected death of her mother and taking on the full-time care of her disabled father, while working full time and taking courses at Pima Community College.
"Davila is working outside of school, has had to endure significant family issues, and is still thriving on campus. She is an incredibly impressive student," wrote one judge.
"Monique's intelligence, academic skills, and delight in learning are combined with a strength of character and intellectual commitments," wrote Katherine Morrissey, associate professor in the Department of History.
In the fall, Monique will pursue her master's in history at Utah State University, where she will focus on archival studies, public history, and the 20th century American West.
"While being an undergraduate in the Department of History, I have met such supportive and generous professors, classmates, and graduate students that have motivated me to continue my success in higher education and obtain a graduate degree in history," Monique said. "Having an amazing group of mentors in the department has benefited my time as an undergrad as they have greatly assisted me in becoming a successful student."