Geographer Connie Woodhouse Named Regents Professor
June 16, 2020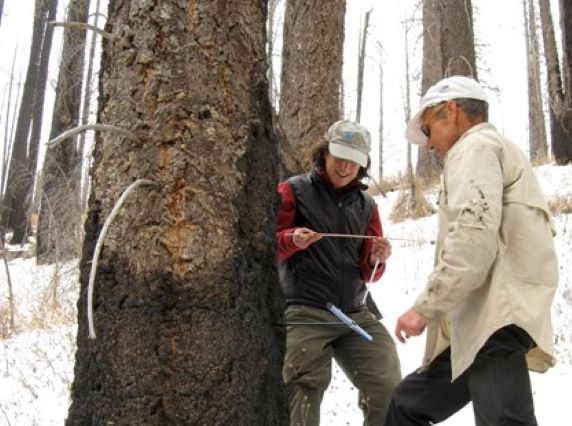 University of Arizona geographer Connie Woodhouse has been named a Regents Professor. The title Regents Professor serves as recognition of the highest academic merit and is awarded to faculty members who have distinguished accomplishments in teaching, scholarship, research or creative work.
Woodhouse, who is a professor in the School of Geography and Development in the College of Social and Behavioral Sciences, is the world's foremost authority on the use of tree-ring science, or dendrochronology, to understand the variable flow of river systems on time scales from years to millennia.
"Her research has fundamentally changed the public's understanding of natural climate variability in determining the availability of freshwater resources in semi-arid regions," according to board materials.
The Arizona Board of Regents also confirmed the appointments of UArizona faculty members Roberta Diaz Brinton, Judith Brown, Peter Chesson, and Jeff Greenberg as Regents Professors.
The title of Regents Professor is reserved for full professors whose exceptional achievements merit national and international distinction. Regents Professor appointments are limited to no more than 3% of the total number of the university's tenured and tenure-track faculty members.
Woodhouse pioneered connecting results from dendrochronology to the information needed by public officials, policymakers and stakeholders to improve both planning and prediction in the face of expected changes to future demand for water. She was one of the first scientists to describe and classify the widespread existence of past "megadroughts" – periods of continuous and severe aridity more intense and prolonged than anything in the instrumental climate record.
Woodhouse pioneered new methods and perspectives for reconstructing and understanding variability in hydroclimatology. In 2016, she received the José A. Boninsegna Frontiers in Dendrochronology Award from the Tree-Ring Society.
"Woodhouse's research has changed the way the world understands and plans for drought, changes in river flow and future challenges to freshwater resources. Working at the boundary of science and public policy decision-making, Woodhouse has created new ways for scientific discovery to lead to innovation in practice," according to board materials.
##
Text from UANews story "ABOR Confirms Five New UArizona Regents Professsors"