An Intergenerational Commitment to Students Studying Public Affairs Reporting
April 21, 2023
Journalism alumnus Bill Jamieson ('65) has had a fulfilling career, underpinned by the desire to help young people. Creating an endowed scholarship for students, in partnership with his granddaughter Hunter, is part of that legacy.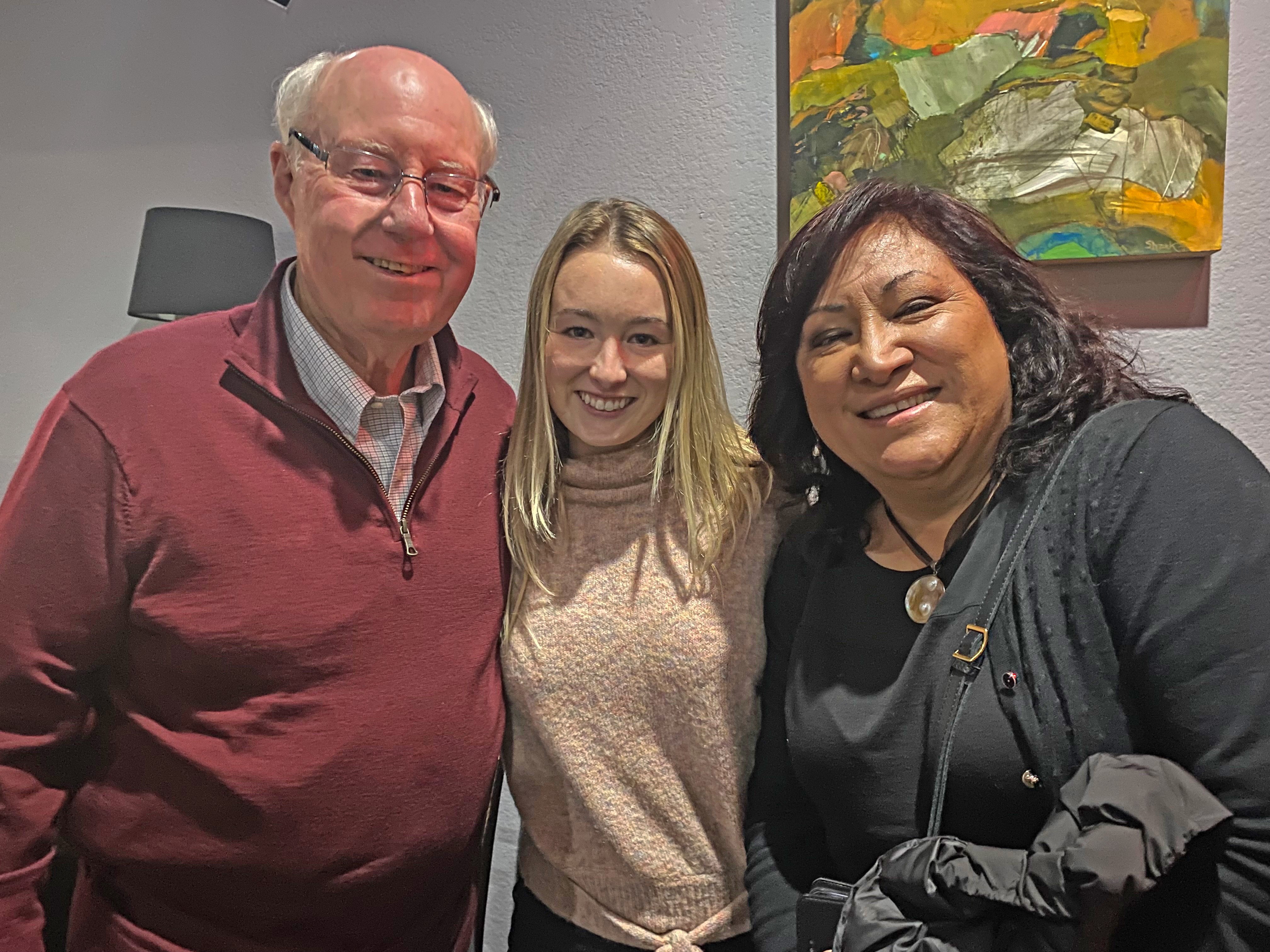 Growing up, Bill Jamieson followed two sports teams: his local team of Stanford and the University of Arizona. Bill's parents met when they were both students at UArizona, and Bill also wanted to attend, but was persuaded by a high school counselor to go to Tulane instead. Unhappy there, Bill transferred to UArizona for his sophomore year.
"At my father's insistence I majored in business. That lasted one semester," Bill said. "To the day he died, he did not know that I transferred into journalism. My mother knew and said, 'Just don't tell him.'"
Bill was a sports editor for his high school paper and had a column in an off-campus newspaper. Bill recalls that Sherman Miller, the then director of the UArizona journalism school, told him, "You're a lousy writer, but you have some hope and if you enroll in the journalism school I'll help you."
Miller was a former copy editor for The New York Times. "He was right out of the movies, an old-time journalist with a cigarette dangling from his mouth. He was a little crusty, but he kept me going and helped me improve my writing," Bill said.
A favorite part of Bill's college experience was serving as sports editor of The Daily Wildcat.
"I absolutely loved it," Bill said. "We just had fun. We would go down to a print shop in South Tucson four nights a week and hang around while they did their hot type and ran proofs, and then we'd go have a beer while they finished up the paper."
After graduating, Bill was a public affairs officer in the Navy, "which is the closest thing I ever was to a journalist." Stationed in Japan at the age of 24, he had a staff of nine and put out two newspapers monthly, one in English and one in Japanese. After he met his wife, Kennon, who was a Red Cross Worker in an Army hospital, his career plans for post-Navy life shifted.
"Once we decided to get married, I realized being a Minor League umpire and writing about sports would not support a family," he said.
A Career and a Calling
After working for his father's business for six months – "the worst experience of my professional career" – Bill joined a start-up nonprofit on drug abuse control as an administrative assistant. This was followed by jobs in Louisiana and Atlanta where he ran the Metro Atlanta Council on Alcohol and Drugs.
Bill then worked in Governor Jimmy Carter's administration in Georgia and then in Washington, D.C. as the director of the Office of State and Community Affairs in the Office of Human Development Services in what was then known as the Department of Health, Education and Welfare.
"In Washington, the longer your title, the less important you are," Bill said with a laugh.
Bill added, "I joined them for a year and found it very difficult. I had a four-year-old and a six-year-old. I was leaving at 6:30 in the morning and getting home at 7 or 8 at night if I was lucky."
Next, Bill served in two cabinet-level positions in Arizona Governor Bruce Babbitt's administration and as chair of the Governor's cabinet. Bill found his journalism training useful.
"I learned what reporters needed in order to do their job and figured if I could get them what they needed, I could probably get some pretty good press," Bill said.
Bill made it his goal to personally know all the journalists in the press room. "My office was directly across from the Capitol, so my parking lot was where all the journalists parked. I always got there early with coffee.
"We developed a mutual respect for each other," Bill added. "And I think it served the public well because information that got out was accurate."
Bill left government in 1984 to form a public affairs and management consulting firm in Phoenix.
A "cradle-to-grave" Episcopalian, Bill was a senior warden – "which is sort of like chairman of the board without power" – and an ordained deacon. His ministry has centered around advocacy for low-income families and children, a passion that started during his time in the Navy and extended into the rest of his career. When he was director of the Arizona Department of Economic Security, his responsibilities included Child Protective Services.
"My personal focus was on kids who were in poverty and their mothers and building programs that offered hope," Bill said.
Empowering the Next Generation of Journalists
Bill decided to invest in the School of Journalism because his education was a major factor in building his career.
"I knew how to shorten things, communicate better, and look at events and issues in more than one way," Bill said. "And to question everything."
The Jamieson-Metcalf Family Scholarship for Public Affairs in Journalism will be reserved for students who show an interest in public affairs reporting.
"Anybody who knows anything about politics knows that local journalism is crucial," Jamieson said.
"I am so thankful to Bill for establishing this scholarship," said Jessica Retis, director of the School of Journalism and the product of scholarships. "I always think about this next generation and the students who will benefit. I just love when I turn on the TV and see my former students."
"My hope is that the scholarship will help other young Jessicas emerge," Bill said. "And they leave with a clearer understanding of what coverage of public policy is and how important it is."
Bill appreciates the permanence of an endowed scholarship.
"No matter how successful we were in government programs, they were built on sand when political winds changed. There was no legacy there," Bill said. "This is an opportunity to take my passion for helping young people and combine it with something that will be permanent."
Bill's granddaughter Hunter Metcalf ('21), a UArizona alum with degrees in neuroscience and cognitive science, will inherit the guardianship of the scholarship after Bill.
"I'll be 80 years old this year. Who knows how much longer I'll be around?" Bill said. "I don't want the relationship with the School of Journalism to end with me."
Hunter, who works in San Diego as a clinical research coordinator, said she was honored to be involved with this gift to journalism with her grandfather.
"He is just the best," Hunter said. "He is just so kind and understanding and always gives people the benefit of the doubt. He's been super influential throughout my life.
"I know the gift was such a big deal to him," Hunter added. "Giving back are values that he has really instilled in me, so it was really nice to be a part of this scholarship, especially since this is where I went to college."
##
This story was included in the Spring 2023 Developments newsletter.