Knowledge River Program Expands Diversity in Library and Information Fields
Oct. 22, 2020
As the Knowledge River Program at the University of Arizona nears its 20th anniversary, it is poised to increase its impact on diversity in library and information fields with the help of a new federal grant.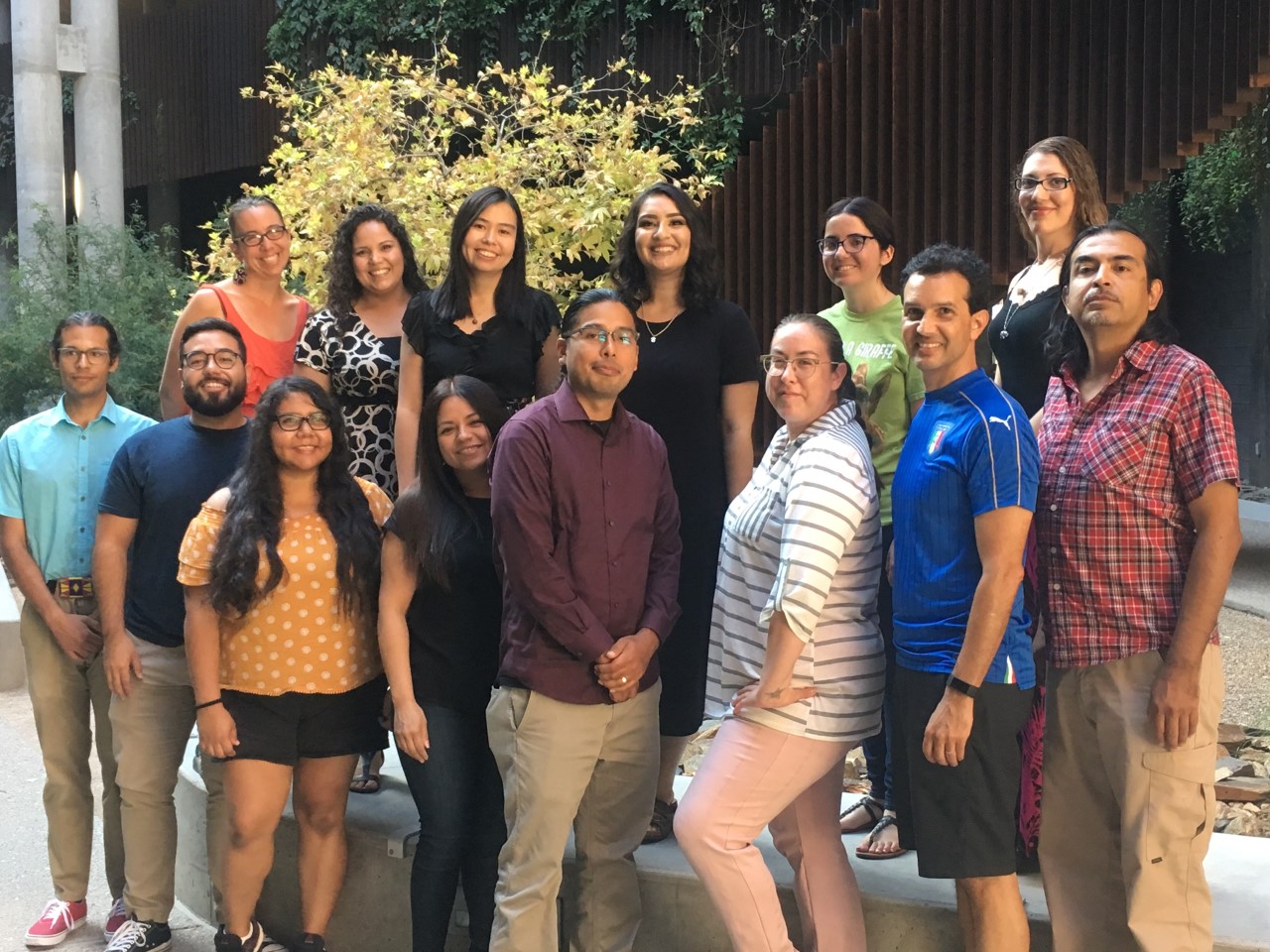 Since 2001, the University of Arizona's Knowledge River Program has been training library and information professionals committed to the information needs of underrepresented groups.
The only program of its kind in the country, the Knowledge River Program has graduated 230 students with an M.A. in Library and Information Science. Alumni have found jobs in diverse library and information venues all over the country, and many are considered emergent leaders in the library profession.
Now, the program – which is housed in the School of Information in the College of Social and Behavioral Sciences – is planning to increase its impact on diversity in the library field with the help of a new federal grant.
Knowledge River has been awarded a $778,000 Laura Bush 21st Century Librarian Program grant from the Institute of Museum and Library Services, or IMLS. The project title is "Knowledge River: National Impact on Diversity, Equity and Inclusion in Libraries, Archives and Museums."
The Institute of Museum and Library Services is the primary source of federal support for the nation's libraries and museums. The Laura Bush 21st Century Librarian Program supports developing a diverse workforce of librarians to better meet the changing learning and information needs of the American public.
The funded project will include recruiting, training and graduating up to 45 students from underrepresented communities over three academic years.
Knowledge River, or KR, will also expand the diversity of the students and curriculum; enhance the preparation of graduates for early-career experiences; and scale the KR curriculum so it can be delivered to non-KR students and practicing librarians. The grant will also fund an alumni survey to gauge the program's impact and to inform future recruitment and training practices.
Leading this charge is KR's new program manager Berlin Loa, an assistant professor in the School of Information and an alumna of the Knowledge River Program.
"As the U.S. population is increasingly multi-ethnic and intersectional, the need to increase ethnic diversity in librarianship and increase cultural awareness in library practice is vital for communities," Loa said.
"Knowledge River makes real headway in diversifying librarianship," said Catherine Brooks, director of the School of Information. "The University of Arizona is a land-grant university and a Hispanic Serving Institution (HSI), and programs that bring community voices to our campus enrich the lives of all of our students, faculty and staff. In the long run, the goal of KR is nothing short of transformational for librarianship as a profession and for the communities in which libraries are embedded."
Expanding Diversity
Loa said that the library profession exhibits a persistent lack of racial and ethnic diversity.
In 2019, over 83% of librarians identified as White. Just 7.1% of librarians identified as Hispanic or Latino and 5.3% as Black or African American. Less than 1% are Native American/Indigenous.
Historically, Knowledge River has focused on Latino and Native American populations but is now more actively recruiting to all BIPOC – or Black, Indigenous, and People of Color – communities. The grant will help fund curriculum development related to library and information needs specific to these communities.
"We want to stay true to the core values of Knowledge River and that is to improve access and services to non-dominant cultures. And because we're situated in the state of Arizona, a big part of that is Native American and Latino communities," Loa said.
"However, Knowledge River is taking the approach that we really need to avoid layering silos on communities and instead be aware of the intersections between Latino, Native American, Black and other BIPOC communities," Loa said, noting that KR has always had students in the program who are multi-ethnic.
Supporting Career Readiness
Knowledge River students benefit from a cohort model that includes funding, focused advising, and graduate assistant positions working with community partners, including Pima County Public Library, UArizona Special Collections, and Arizona State University. KR also supports non-traditional students, including those working full-time and distance learners.
As a result, KR has a 95% graduation rate. The program now wants to bolster its support for graduates once they enter the workforce. By supporting long-term retention in the field, KR is aiming to create leaders who can influence diversity practices at institutional levels.
"That means that they take their cultural awareness into huge organization and start to work from the inside to help others in the organization recognize how BIPOC communities are involved in every aspect of American society," Loa said.
KR student will receive professional development during orientation and monthly skills workshops on topics such as project management, leadership, public speaking, communication, and challenges of working in non-diverse workplaces. The program also provides travel funds so that students can attend a national conference.
A key component of the KR model has also included student access to a network of alumni.
"But we're taking this to the next level, to really bring back our KR alumni and connect them with current KR students, because many of them are fairly advanced in their careers now and have a lot of experience to offer," Loa said.
KR alumni will be matched to KR students in the students' second semester, supporting them through the program and their first year as professionals.
Expanding Content Distribution
KR will also develop curriculum targeted to non-KR graduate students and library professionals, such as training modules or a week-long institute to help attendees integrate diversity concepts at their own institutions.
"For the last 20 years we've educated people from BIPOC communities to bring them up in the ranks and help them serve their own communities," Loa said. "Our next step of growth is to reach non-BIPOC library students and those already working in the field to help them understand what the needs are for service materials, education and access."