Poverty Project Focuses on Housing, Evictions
Jan. 9, 2020
Low-income households in Tucson are struggling with the cost of housing, according to findings presented by UArizona students from the annual Poverty in Tucson Field Workshop.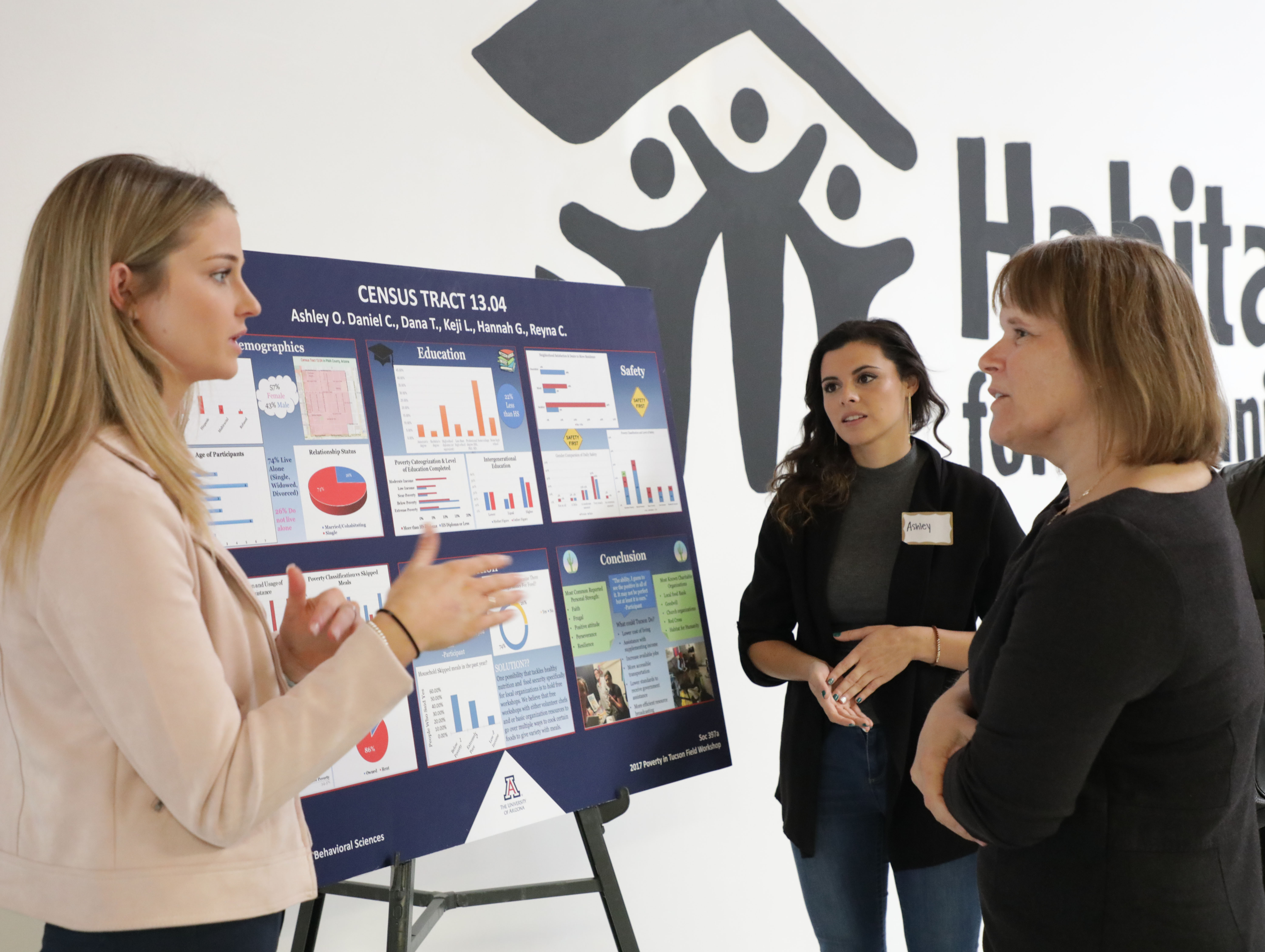 With home and rental prices on the rise in Tucson, will low-income households be able to find affordable housing? The 2019 Poverty in Tucson Field Workshop examined that question and others related to the challenges faced by Tucson's more than 100,000 households living below the federal poverty threshold.
The Poverty in Tucson Field Workshop community forum, held at Habitat for Humanity Tucson on Dec. 17, 2019, marked the culmination of University of Arizona students' semester-long efforts to collect data from low-income households. The students presented their findings to more than 200 community members, city officials and nonprofit organizers.
The annual workshop is offered through the School of Sociology to help local government and nonprofit organizations better understand the causes and consequences of poverty, which impacts 25% of households and more than 33% of children in Tucson.
The workshop is a research collaboration involving the School of Sociology, the College of Social and Behavioral Sciences and local nonprofits, including Habitat for Humanity Tucson, the Community Foundation for Southern Arizona and the Community Food Bank of Southern Arizona.
This year's class interviewed 151 households from five high-poverty census tracts in Tucson. Among the respondents, 13.8% were unemployed; the remainder were retired or working full or part time. Students examined issues related to housing, evictions, and barriers to service access.
Housing, Evictions, and the Service Gap
Consistent across the five years of data that the course has been collecting, most low-income households in Tucson are housing overburdened – or spend more than a third of their income on rent and utilities. This year, 88% percent of those at the poverty level were housing overburdened — which translates into less money for food, health care and educational expenses.
The problem of housing overburden has become an added concern as housing and rental prices in Tucson increase, with the median gross rent in Tucson now more than $800 a month. A recent news article documented how rising rents are impacting low-income households in Tucson, forcing relocation and disrupting children's schooling.
Affordable and safe housing seems out of reach for most low-income renters, said Brian Mayer, who directs the Poverty in Tucson Field Workshop. Mayer is an associate professor in the School of Sociology and a fellow in the Agnese Nelms Haury Program in Environment and Social Justice.
"This year, we have seen some improvements in households' financial stability – but at the same time their satisfaction with, and sense of safety in, their neighborhoods has decreased," Mayer added. "Across the city, respondents are reporting disturbing increases in drug use and crime in their communities."
The 2019 Workshop also looked at rates of eviction and the impact of experiencing an eviction on residents' future housing options. Around 15% of the households surveyed had experienced a recent eviction – of those, only a third sought help from the legal system to remain in their homes.
"After being forced to move, respondents reported experiencing homelessness, discrimination while looking for rentals, and lasting anxiety and depression," Mayer said.
Dawson Franco, a major in care, health and society, said it was eye opening to discover the long-term impacts of evictions. "Once people have been evicted, it makes it a lot harder for them to get decent housing or to improve where they are living. I think that there's something we can do in the community to help with that."
The number of homes not accessing government and charitable assistance also remained high, with 37% percent of those in extreme poverty reporting that they never use government assistance. In addition, 51.9% percent of this group reported never receiving help from a charity or nonprofit.
"What struck me is that so many people do not know what resources are out there for them," said Kristina Newton, a sociology major. "And a lot of them didn't want to be that person asking for help."
Hands-on Learning for Students
Students in the course gained hands-on social research experience, an enhanced understanding of poverty-related issues and real-world professional skills.
"For me, the class really solidified that this is the type of work that I want to do," said Newton.
Sydney Hess, who majors in philosophy, politics, economics and law, or PPEL, loved the hands-on aspects of the class.
"I think this is the best class that I've taken at the University of Arizona to be completely honest," said Hess, who is also ASUA student body president. "Most of the time you sit in class and you learn about theory. But this is different. You actually go out there and see what it's like in Tucson. I feel like I'm embedded in the Tucson community now and that I have a responsibility to try and fix what's going on here."
T. VanHook, the chief executive officer of Habitat for Humanity Tucson, said that the workshop serves a number of important functions. "The data gives us a snapshot into what is happening in our community right now and it also give us important longitudinal data. We also feel that it is important to cultivate the next generation of folks who are going to serve the community, either professionally or as philanthropists or volunteers, because they see the importance of the issues that are happening in our community."