SBS Champions: Business and Operations Team Keep the College Running
Oct. 7, 2020
With our SBS Champion series, we celebrate faculty, students, staff, alumni, and friends in the college who are helping our community and each other during the COVID-19 pandemic.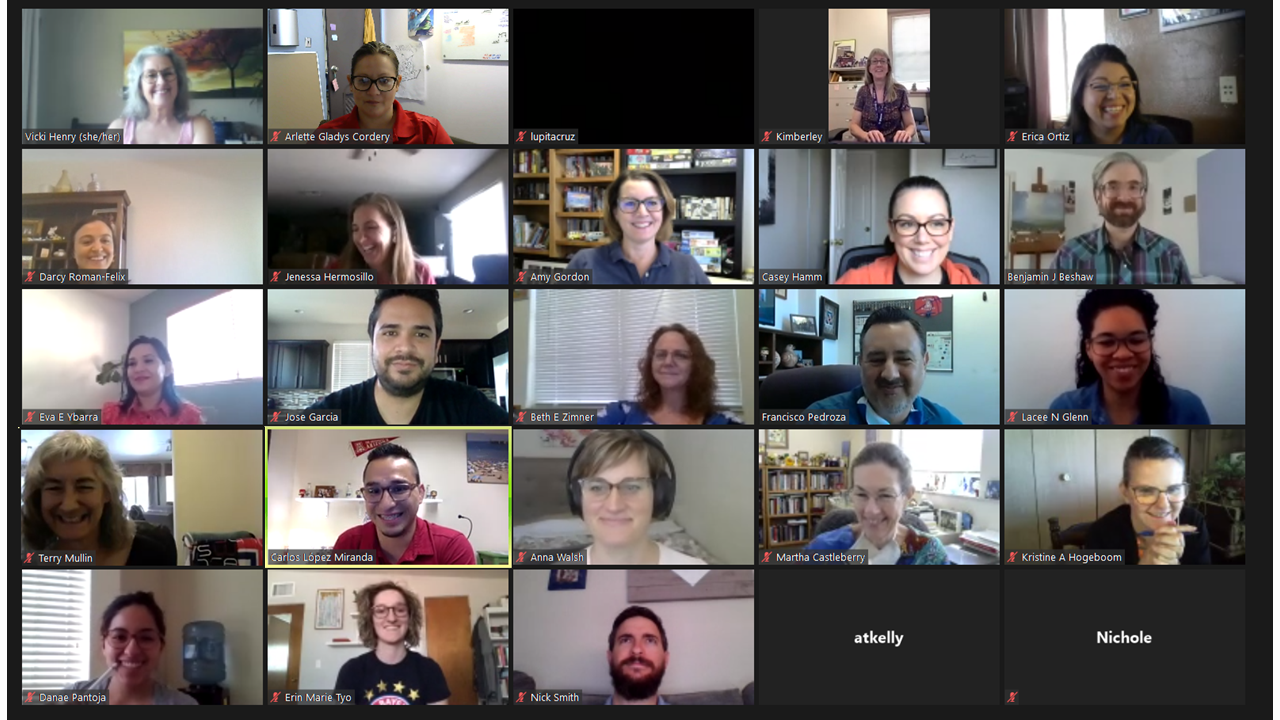 During the COVID-19 pandemic, our business and operations team have ensured that unit and college operations run smoothly during a time of uncertainty and financial difficulties.
Among other job responsibilities, they have managed furloughs, handled new recruitment and hiring wavers, ensured plans for reentry were implemented, kept units informed of the constant changes, and covered six vacancies.
Francisco Pedroza, assistant dean of business-finance for the College of Social and Behavioral Sciences, said business managers often went "above and beyond," working odd hours to ensure everyone gets paid and canceling days off to deal with emergencies.
"They showed a team attitude and helped in areas outside of their normal duties," Pedroza added.
Once employees began working remotely in March, the business team had to quickly move to an online environment for a job that often is heavily reliant on paperwork.
José Garcia, business manager for the Departments of Mexican American Studies and History, said previous work he'd done to digitize financial documents paid off once the work-from-home edict was received.
"I also have improved ways in which I am receiving secured documentation and routing for electronic signature, which allows for faculty to receive their reimbursements faster than before," Garcia said.
In a time of precarious finances, business managers often found creative ways to save money, such as transitioning to a paperless environment, finding more efficient ways to get tasks done, and analyzing expenditures for maximum impact.
"I am especially grateful for the work Adrian [Kelly] has done with me to deal with budget cuts and create scenarios to ensure our department survives and even thrives during this difficult time," said Diana Liverman, director of the School of Geography, Development & Environment.
The business team also helped get a record number of grant proposals out the door.
"At a time when everyone was stretched thin and our business team was depleted, Erica [Ortiz] stepped in and provided first-class service in helping faculty in SGPP submit at least half a dozen grants on short notice. Throughout all of this, she maintained impressively high standards of communication and professionalism," said Alex Braithwaite, professor in the School of Government and Public Policy.
The business and operations team were critical in coordinating the fall re-entry plan.
"I'm pretty amazed at all of the work that was done in such a short time to transform campus for reentry this fall," said Arlette Cordery, manager of space and facilities for the College of SBS. "It was a tremendous amount of teamwork with lots of virtual and in-person meetings with our SBS units and Facilities Management project managers. We reviewed floorplans for sneeze guards, sanitizer dispensers, signage, and submitted dozens of PPE forms for all of our SBS (and some non-SBS) units and 20 SBS buildings."
Through it all, the leadership and positive attitude of the business team helped the units navigate the changes.
"Having served in multiple units over time, it's quite clear that Ben [Benshaw] is deeply committed to the College of SBS. Ben's own style sets up environments that are welcoming for faculty and other staff – the importance of the laughter he inspires and the joy he brings others within and beyond the office just cannot be underscored enough," said Catherine Brooks, director of the School of Information.
Pedroza said stories of dedication and excellence exist for all the business and operations team members, who toil at tasks critical to the running of the university but that often go unsung.
"I am so proud of the entire business and operations team," Pedroza said. "Their tireless work often goes unrecognized. Over the past six months they have really stepped up on behalf of all the faculty, students, and staff of the college. These are very talented and smart individuals who help keep things running, even though we have lost several positions to the budget cuts. It is amazing to see this type of dedication."