SBS Champions: iSchool Professors Peter Jansen and Win Burleson Make COVID-19 Equipment
May 1, 2020
With our SBS Champion series, we are celebrating faculty, students, staff, alumni, and friends in the college who are helping our community and each other during the COVID-19 pandemic.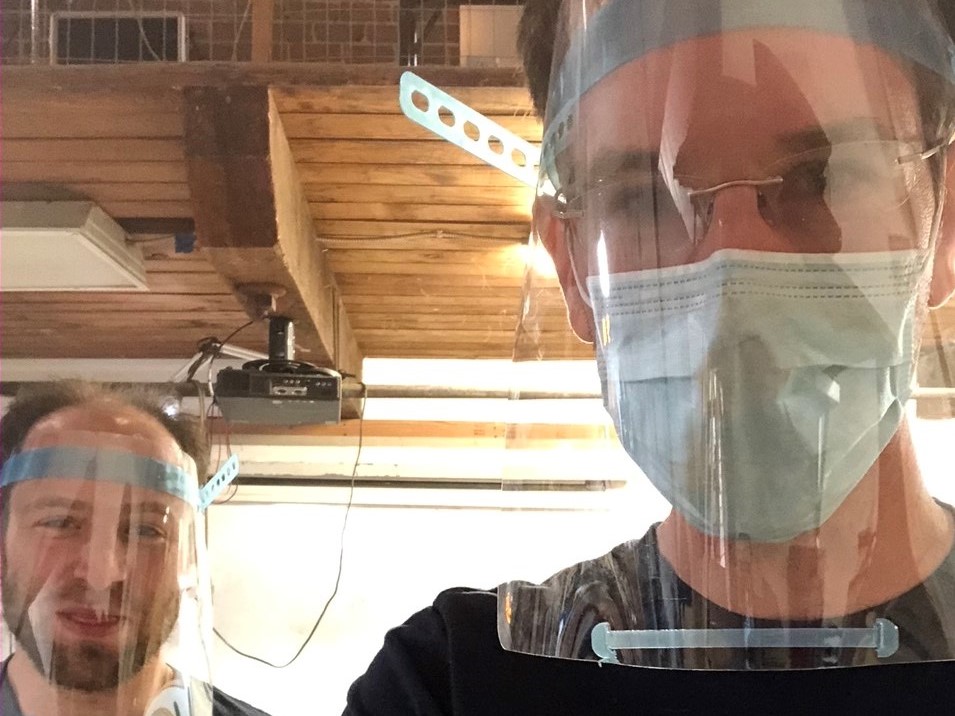 The School of Information, or iSchool, in the College of Social and Behavioral Sciences is filled with doers, thinkers, and solvers. Two faculty in the iSchool – Peter Jansen and Win Burleson – are lending their expertise in makerspaces and their background in inventing to the essential task of creating the protective and medical equipment needed to battle the COVID-19 pandemic.
"I am so inspired by Peter and Win and their work with other faculty from across the campus," said Catherine Brooks, director of the School of Information. "It's exciting that iSchools do this kind of transdisciplinary work all of the time, and to see this kind of campus and community-wide effort in action was a bright spot in an otherwise difficult climate."
Manufacturing Face Shields
iSchool Assistant Professor Peter Jansen, who teaches rapid protoyping skills, has been helping design and make protective face shields, which are plastic covering that go over the face in addition to a mask or respirator.
Peter Jansen is part of a UArizona team creating personal protective equipment for healthcare professionals using the tools and materials available to them. Jansen's contributions were featured in the UANews story "UArizona makers race to provide personal protective equipment."
"I saw 3D printed face shields in the news, and it made me angry because it takes about four hours to print just one shield. You would need thousands of printers running 24/7 for weeks to meet the needs of Pima County," Jansen said in the story. "But a laser cutter can cut plastic like butter in seconds. I wanted to come up with a laser-cut design rather than printed."
Jansen developed several initial prototypes, which the online team tweaked and are now manufacturing. Face shields have been distributed to various locations, including Campus Health, Navajo County hospitals, and other local health care providers.
"I never thought in a million years I'd spend a day on the phone with plastic supply companies, but it was important for this group of innovators to have a small amount of material to fill the gaps until large-scale manufacturing met Arizona health needs," said Brooks.
Making a Ventilator with Everyday Parts
Win Burleson, associate professor and assistant director of the iSchool with a joint appointment in Health Sciences, is an inventor: He holds 11 patents and has twice received Time Magazine's Top Inventions of the Year Award.
Lately Burleson has been "spending most of his weekend waking hours on ventilator designs," according to a story by Arizona Public Media titled "Basketball and drills: UA scientists designing innovative ventilator prototypes." Burleson, who is also director of research of the iSchool, is part of a group working on COID-19 related projects.
Burleson is figuring out how to build ventilators using only readily available items to fill the supply gap caused by a shortage of specialized parts.
"I called up a colleague, he had an air compressor in his garage, so he broke open a couple Ziplock bags and some duct tape and was able to seal up and inflate and deflate a Ziplock bag with the air compressor and a book on top," said Burleson in the story, describing the first iteration.
Burlesen is now moving forward with a prototype of a simple low-cost, off-the-shelf parts solution that uses the compressed air and oxygen available in hospitals and clinics to provide the supported breathing that patients need.
"It's been amazing to see the hundreds of people and groups designing ventilators, and there are several competitions being announced," Burleson said. "While the core elements of these devices can be simple, there are many features that apply uniquely to COVID-19 and some of these are only beginning to be understood by this community. While full-featured ventilators may be present in sufficient numbers in U.S. cities and major hospitals, rural and global sites will be in dire need of robust low-cost solutions that can help to save lives."