SBS Faculty Member and Student Honored in Class of 2021 "40 Under 40" List
Dec. 7, 2021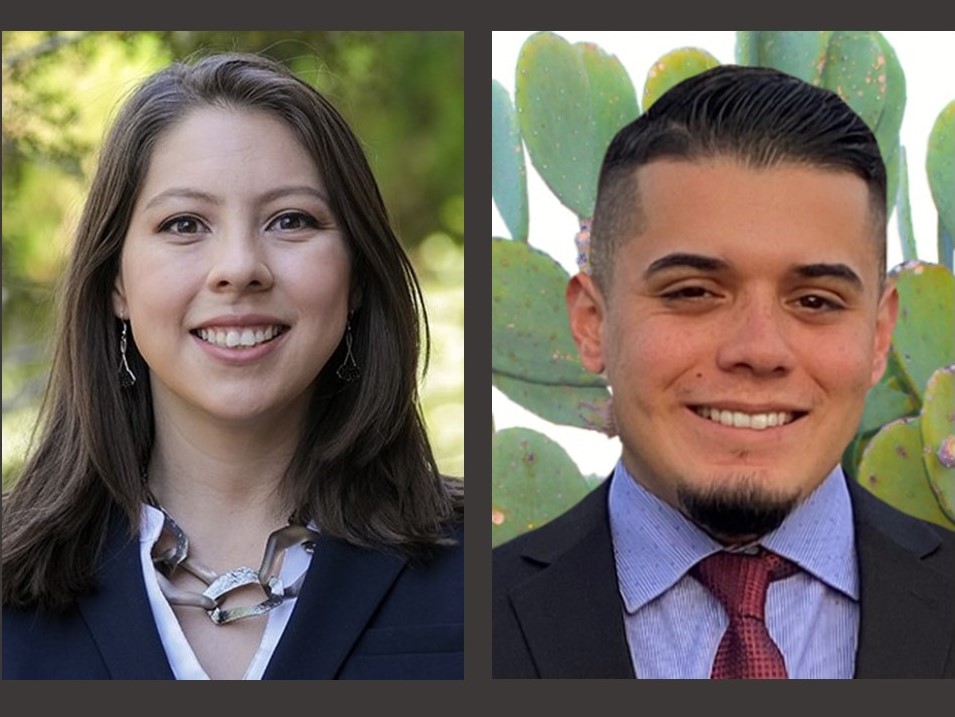 Congratulations to College of SBS faculty member Elise Lopez and student Patrick Robles, who are part of the 2021 Class of "40 Under 40," an honor given to Tucson professionals under the age of 40 for significant achievements and contribution to their profession and community.
They were honored on Dec. 7 at an event hosted by the Tucson Hispanic Chamber of Commerce, the Arizona Daily Star. and Snell & Wilmer.
Read more about the honorees below.
Elise Lopez
Elise Lopez is the director of the Consortium on Gender-Based Violence in the College of Social and Behavioral Sciences. She is also an assistant professor of practice in the Mel and Enid Zuckerman College of Public Health.
Lopez has worked in public health research and practice since 2004, specializing in restorative justice, adolescent health, substance abuse, trauma, and prevention of and response to sexual violence.
As director of the Consortium on Gender-Based Violence, Lopez is working on a variety of initiatives including online prevention and awareness campaigns, working with survivor advocates to expand services, and identifying opportunities to integrate GBV awareness into student health and safety programs on campus.
Along with Mary Koss, professor in the College of Public Health, Lopez is studying the effectiveness of a unique campus sexual assault prevention program for female first-year students. The study is funded by a $2 million grant from Arnold Ventures.
Lopez also oversees a statwide initiative called "Safer Bars" to train liquor servers to recognize and safely respond to sexual aggression. And with a $3 million NIH grant, Lopez, Koss, and colleagues are evaluating the effectiveness of this program.
Lopez is also the principal investigator on a $500,000 grant from the US. Department of Justice to expand services for survivors of sexual assault with a new forensic exam site at Banner University Medical Center-Tucson.
"So much of my work exists 'behind the scenes,' as it should when truly acting in service to the community," Lopez said. "To be selected as one of this year's 40 Under 40 is such an honor. I would be remiss if I did not extend recognition to my team, colleagues, community partners, and the survivors who show up every day in partnership to end gender-based violence. We are all in this together."
Patrick Robles
Patrick Robles is a public management and policy major in the School of Government and Public Policy. A first-generation college student, Robles was featured in the University of Arizona Wonder campaign.
Robles is the community outreach coordinator for Pima County Attorney's Office, where he is responsible for fostering relationships with the people the office serves, including organizations and agencies across Pima County that are building community. 
Robles is committed to community activism. In high school, he was student body president, joined protests to increase teacher pay, registered students to vote, and convinced the City Council to build a crosswalk in front of his school.
On campus, he's involved in Young Democrats, helped elect a first-generation college student to the student-body senate, and serves on the ASUA Appropriations Committee. Robles also won a Fast Pitch competition offered by Social Venture Partners, raising $27,000 for the Sunnyside Unified School District Foundation. The money will go to the Sunnyside Unified School District, from which he is a proud graduate. At 20, he is the youngest board member of the Sunnyside USD Foundation.
Robles is counting on his education and experiences at the University of Arizona to help him navigate his future: "My education here at UArizona is guiding me in my journey to positively impact our community and bring more young people into these halls of power."
"I'm incredibly humbled to be a 2021 40 under 40 honoree at 20-years-old," Robles said. "My community work is rooted in the understanding that all people deserve to live in a world where systemic barriers to social and economic prosperity no longer exist. When institutions and agencies take a chance on Generation-Z and place us in positions of influence and empower us to bring change in our community, they will see first-hand a generation committed to working hard to bring about the change that we seek. "