SBS Outstanding Senior Demonstrates Academic Excellence and Community Leadership: Kate Rosenstengel, '20
May 5, 2020
Kate Rosenstengel has conducted research, studied abroad, volunteered in the community, completed prestigious internships, received numerous awards, and represented her fellow Wildcats as vice president of ASUA.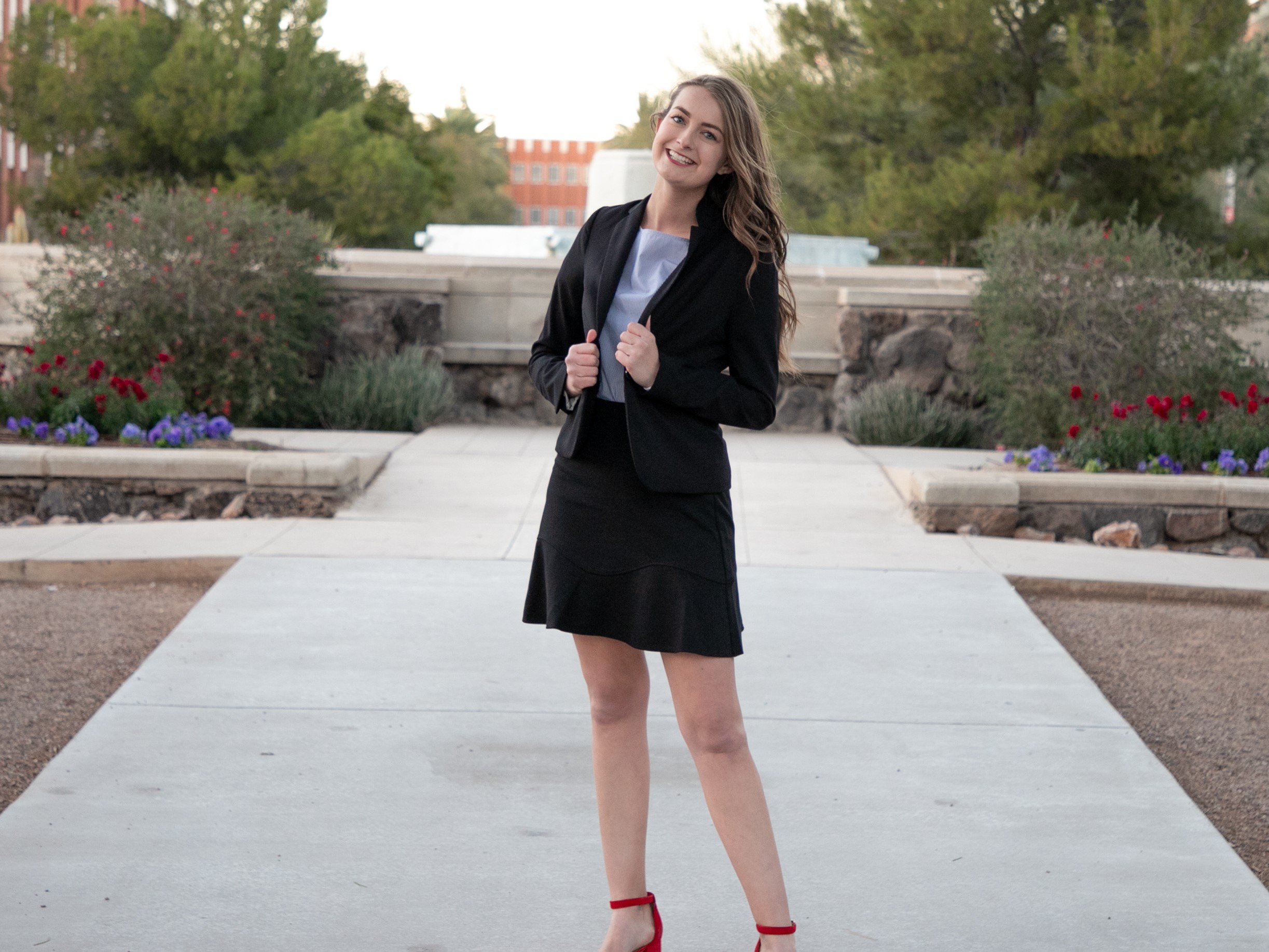 Kate Rosenstengel is an Honors student graduating summa cum laude with a double major in philosophy, politics, economics, and law, or PPEL, and global studies, with an emphasis on human rights, migrations, and social movements. She also completed a minor in Spanish.
Kate is the recipient of the SBS Outstanding Senior Award for spring 2020, which is given to a graduating senior with a record of outstanding achievement, a history of active citizenship on campus and/or in the local Tucson community, and a demonstrated capacity for leadership.
Beginning in fall 2020, Kate will pursue a master's of science in human rights and politics at the prestigious London School of Economics.
"What sets Kate apart from other candidates is her breadth of service and leadership, which is just astounding for an undergraduate," wrote one judge.
"My classes in PPEL were challenging, but my professors made the countless hours in the library worth it because I knew I was learning useful skills to apply to my future career," Kate said. "PPEL taught me about critical thinking, how to evaluate different political and economic ideas, and how to articulate complex concepts. My Global Studies classes opened my eyes to social issues and different cultures."
As a first-year Honors student, Kate collaborated with political scientist Samara Klar to conduct research on young voters. While studying in Guatemala, she designed and carried out an independent research project on reproductive justice, interviewing health care providers at local clinics to gauge perspectives and practices related to abortion and contraception in Central America. She also interviewed local immigration activists In Tucson for her Honors thesis "The Politics and Practices of Immigration Policy in the United States."
"My experience through both of my majors in SBS was absolutely stellar," Kate said. "I took classes with brilliant professors that truly invested in my learning. I discovered more about my own interests and academic abilities than I ever knew was possible. I was able to complete research with professors that cared deeply about my success and challenged my ideas to help me grow and succeed. Especially, I am so grateful to my senior thesis advisor, Dr. V. Spike Peterson, for investing so much time and effort into my academic growth throughout my senior thesis research project," Kate said.
Kate has served two terms as Vice President of the Associated Students of the University of Arizona, elected in competitive university-wide elections to represent 40,000 students.
In 2017, Kate was a public policy intern with Planned Parenthood of Missouri, and in 2019, she interned at the Washington, D.C. office of United States Senator Richard Durbin. In 2019, she was selected to be a Bobcats Senior Honorary. In 2018, Kate received the Brian A. Seastone Public Service Award, given by UArizona Chief of Police Brian Seastone in recognition of her excellence in community service.
Elizabeth Oglesby, acting director of Global Studies, and David Pietz, director of Global Studies, said they nominated Kate because of "her academic rigor, intellectual curiosity, and demonstrated campus and community leadership."
"She is an exemplary student who has made a sustained contribution to the University of Arizona," Oglesby and Pietz wrote. "Going forward, we know she will make important contributions to the study and practice of international human rights."