Students Share Interdisciplinary Research on Latin America at Inaugural Symposium
April 5, 2022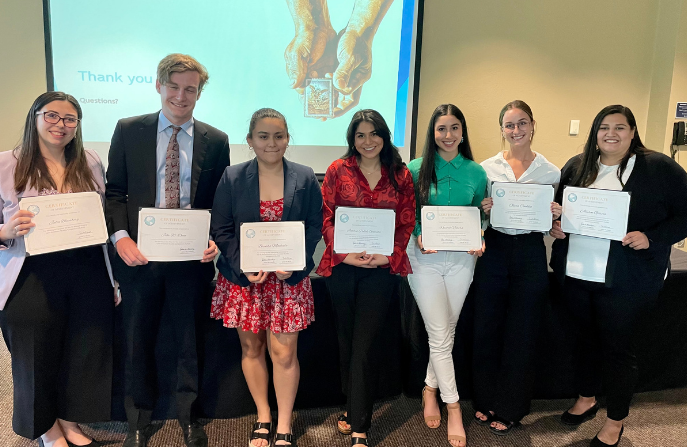 This March, the Latin American Studies Student Organization (LASSO) organized the 1st Annual Arizona Latin American Studies Symposium (ALASS) at the University of Arizona.
LASSO connects graduate and undergraduate students, the Center for Latin American Studies, and the greater Tucson community. The symposium allowed both undergraduate and graduate students in Arizona to gain experience presenting their academic work in a welcoming, inclusive environment. It also encouraged learning, collaboration, and conversation about important topics in Latin America between students and experts in the field.
The symposium was chaired by graduate students Jake Dean and Julia Blumberg. Dean is working on his master's in Latin American Studies and conducts research on whale-watching ecotourism and conservation in the Baja Peninsula and and on gender equity in North American soccer. Julia Blumberg is working on a dual master's degree in Latin American Studies and Bilingual Journalism with a focus on human rights and U.S. asylum policy.        
"I believe it is important for students at the University of Arizona to have a multitude of opportunities to share their research to gain practical experience toward their career goals. LASSO strives to create these types of platforms and saw an opportunity to highlight Latin American-focused scholarship. ALASS provided an excellent interdisciplinary outlet of research and collaboration," Dean said.     
"It is my hope that students can build off this close-knit experience to further engage in the Latin American studies academic community, including future conference attendance and presentation experiences," added Blumberg.
The symposium presentations showcased the breadth of student research on Latin America conducted across campus. Two universities and 10 units were represented. The first session focused on music, art, and language; the second session focused on politics, immigration, and law; and the third session focused on education in Arizona, Latin America,and beyond. Topics ranged from classical guitar and Mexican ceramics to migrant experiences and data privacy to racism in Brazilian curriculum and Latinx student-athletes.
"It was wonderful to see the high level of scholarship among presenters and engagement by the audience," said Marcela Vásquez-León, director of the Center for Latin American Studies. "Everyone asked great questions, provided important feedback, and interacted with presenters in positive ways."
The symposium was sponsored by the Confluencenter for Creative Inquiry, the Center for Latin American Studies, and a grant from the Graduate & Professional Student Council.
Student Presentations and Keynote Addresses
Session 1: Music, Art and Language
Alissa Settembrino (Fred Fox School of Music) – "The Blues, Bossa Nova, and Descargas through Rote Teaching and Improvisation: A Bi-Musical Approach to Modern Band Pedagogy"
Andrés Pantoja (Fred Fox School of Music) – "Extended Techniques for the Classical Guitar in Chilean Music."
Amy Tisdel (Fred Fox School of Music) – "Jews in Argentina, a Cross-Cultural Examination: The Influence of Klezmer on the Development of Tango at the Turn of the Century"
Amanda Lipp (School of Art) – "Cultural Hybridity and an Eighteenth-Century New Spanish Talavera Jar (Barril): Global Culture and Mexican Ceramics
Gabriela De la Cruz-Sánchez (Department of Linguistics) – "Documenting the vowel inventory of Otomi"
Corey Denham (Fred Fox School of Music) – "Amadeo Roldán, Ritmicas No. 5 and 6: Lasting Cuban Influence in Percussion Repertoire"
Session 2:  Politics, Immigration, and Law
Kristal Natera (Center for Latin American Studies) – "Security Environment and Migrant Experiences in the Venezuela-Colombia Borderlands"
Jazmín Pulido Gonzalez (Center for Latin American Studies) – "The Governance of Transnational Afterlives: An Analysis of Postmortem Migrant Repatriation Between the United States and Mexico"
Daiva Scovil (Arizona State University - Watts College of Public Service and Community Solutions) – "Data Privacy and Protection in Latin America"
Jakob Buckley (School of Government and Public Policy) – "U.S Militarization of Latin America through the Western Hemisphere Institute for Security Cooperation (WHINSEC)"
Miguel Angel Grageda Garcia (School of Natural Resources and the Environment) – "Using Camera Traps to Assess Human Development Affecting the Sonoran Pronghorn Population in the Pinacate Biosphere Reserve, Sonora, Mexico"
Session 3: Education in Arizona, Latin America, and Beyond
Vanessa Lucero (School of Journalism) – "The History of Guerrero Center & Diversity at University of Arizona"
Joanna E. Sanchez-Avila and Jaime Fabricio Mejia Mayorga (Department of English; Second Language Acquisition and Teaching) – "Invitation to the Central American Studies Initiative (CASI) at the UA"
Larissa Xavier de Oliveira (Center for Latin American Studies) – "Addressing Racism in Brazilian Curricular Guidelines Through the Lens of Critical Race Theory: From a Mulitculturalist Approach to an Anti-Racist One"
Diana Ramos (School of Journalism) – "The Contributions of Young Latinxs: Student-Athletes and Sports' Parallel to Society"
Jacqueline Larson (Zuckerman College of Public Health) – "An Auto-Ethnography of Language Policies in Nogales Schools"
Keynote Addresses
Aracely Rivera Cohen (Mexican American Studies) – "Revisiting Latin American Immigration to the U.S."
Dora Rodriguez (Executive Director, Salvavision Rescue Arizona) – "Survival and Advocacy"
Javier D. Duran (Director, Confluencenter for Creative Inquiry) – "Necropolitical Cartographies: Cultural Representations of Cross-Border Displacements and Violence"