Supporting the Next Generation of Truth Tellers
Sept. 2, 2022
By establishing a scholarship in the School of Journalism, Josh Grossfeld is honoring his dad's career and giving a boost to students studying broadcast journalism.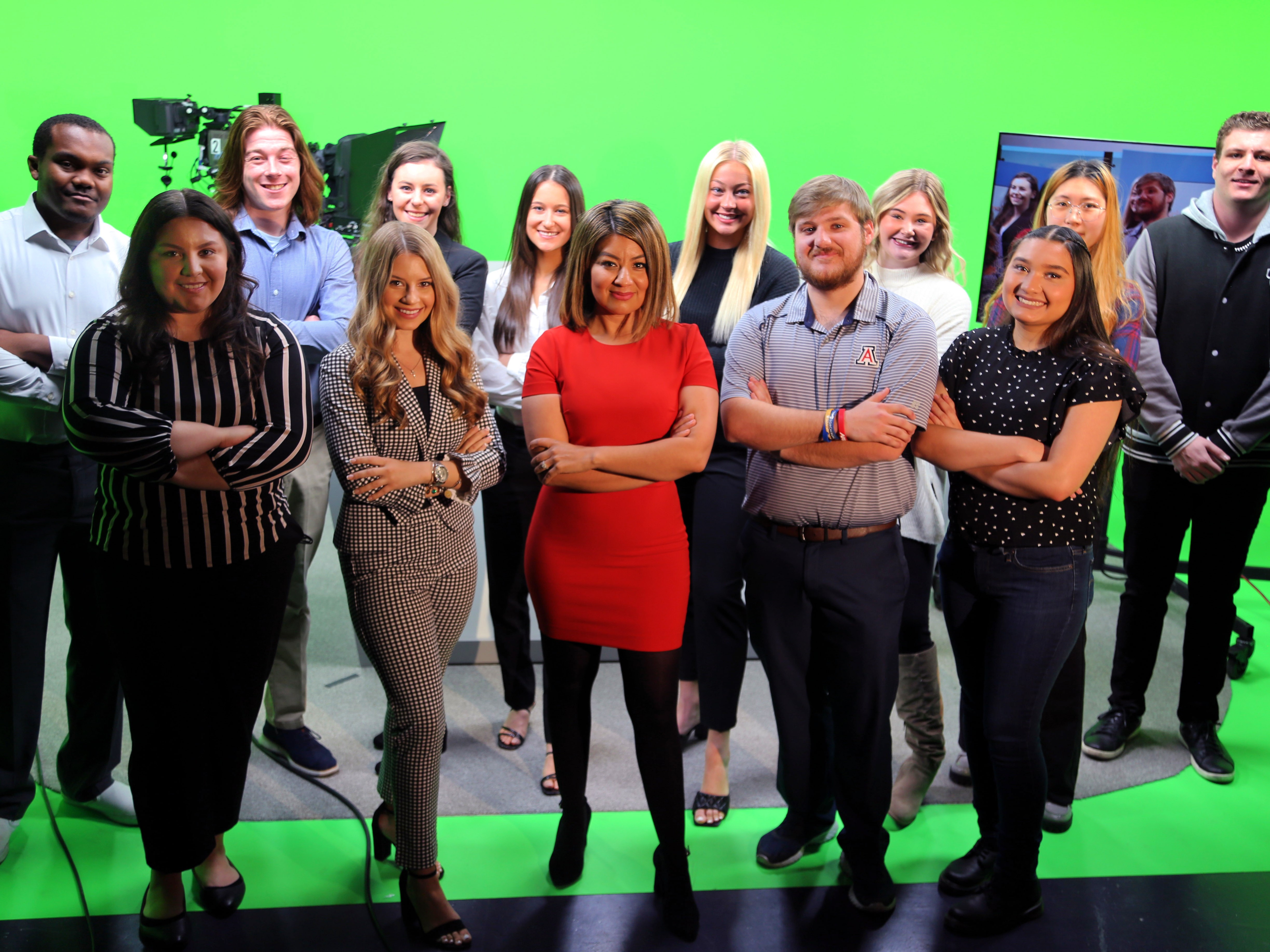 When University of Arizona alumnus Josh Grossfeld was growing up, he often hung out with his dad, Robert "Bob" Grossfeld, at his journalism and political strategy jobs on the weekends and over summer breaks. Josh recalls sitting in the recording booth and "helping" record pre-roll ad spots and going on TV shoots. As a teenager, he wrote direct mail pieces and designed websites for political campaigns.
"I can't think of a time when I haven't gone into the office with my dad," Josh said. "It never felt like work when I saw him doing it or when I was doing it with him. It was fun. It's something that I really treasure."
Bob Grossfeld has had a remarkable career that's ranged from broadcast, print, and radio journalism to political strategy and media consulting. He's advised members of Congress, was the communications director at the Arizona Department of Education, and founded The Media Guys, providing award-winning strategic communications for progressive political and public affairs campaigns. Bob currently lives in Phoenix and is president of Politicare and The Media Guys.
Journalism is his dad's passion, foundational to everything else he's done in his career, Josh said. "That journalistic instinct is always a part of him."
Bob's love of journalism began in high school when he hosted a radio news program during lunch over the PA system. During college, he had a part-time job working for WKAR, the public media station for Michigan State University.
After graduating with a B.A and M.A. in communication, Bob had various jobs in journalism. He did radio news in Jackson, Michigan, and on-air TV news in East Lansing; he was a feature writer for the New Mexico Sun; and led radio newsrooms for several stations in the Southwest. He then served as communication strategist for a number of issue-based political campaigns as well as senior advisor to the Arizona legislative leadership until 2008, when he launched and published the groundbreaking online daily publication The Arizona Guardian for three years.
"I could never have made my way through life without that journalism background," Bob said. "It taught me how to write and to be as objective as I could."
Creating a Legacy
To honor his dad's career in journalism, Josh has established the Robert J. Grossfeld Endowment in the School of Journalism at the University of Arizona. He also wants to promote professional training in journalism, which he sees as "more important than ever."
The endowment will provide a financial award to a student majoring in journalism who intends to pursue a career in broadcast journalism and has financial need. Preference will be given to applicants who were raised in a single-parent home.
"I hope that the scholarship gives a student on the cusp of pursuing a career in journalism a little extra jolt," Josh said.  "I hope the long-term effect is that we create broadcast journalists who have an eye for truth and for presenting facts to help people make their own informed decisions."
When Josh first told his dad he was establishing the scholarship, Bob thought he was "messing with him."
"I was really touched. Still am," Bob said. "The scholarship is going to be really good for some kids. And it's a nice legacy."
Bob was pleased to learn they could help students from a single-parent home. His dad died suddenly when he was a sophomore in college, which made finishing his degree challenging.
Josh said, "My father had a lot of help through college as the child of a single mom. I wanted to replicate that and pay it forward."
"We are so grateful to Josh for establishing the Robert J. Grossfeld Endowment to honor his dad's career and to benefit students studying broadcast journalism," said Jessica Retis, director of the School of Journalism. "With our new Severson Family Broadcasting/Podcasting Studio and Lab on the horizon, I anticipate more students will want to train in that field. Being able to offer financial support to students is one way we can promote excellence and diversity in journalism."
Wildcat for Life
Josh, who majored in communication and Spanish at the University of Arizona, decided to establish the endowment at the University of Arizona because he had a great experience as a student.
"For being such a large school, it's a really tight-knit community," Josh said. "I met some of my absolute best friends there and really enjoyed the access to various types of classes."
Josh credits his UArizona education – along with the hands-on experience he gained with his dad growing up – with helping him succeed in his career. Josh is partner and co-owner of Wildfire, a political campaigns communications firm, and founder and partner of Goodstock & Co., which helps campaigns sell merchandise to help with fundraising.
Josh and his wife, Angela – also a journalism major and an accomplished marketing and communications professional – try to instill the importance of giving back into their three kids, ages 11, 9, and 3.
"Philanthropy in this way is, frankly, pretty new to us," Josh said. "I am really grateful that we have gotten to the point in our lives where we can do something like this."
The couple recognize the importance of higher education for opening opportunities, and they are already talking to their kids about where they want to go to college.
"My wife went to the University of Maryland so we have competing proposals about where that should be," Josh said. "I'm currently winning – there are only University of Arizona t-shirts in the house right now."
Josh, who lives in Maryland, remains close to his dad, whom he calls his best friend. Over the pandemic, they got a wifi-connected Square Off chess board, so they could play chess in real time.
"Because we have similar work backgrounds, conversations can quickly evolve to work convos, which is lovely and fine, but it's still your pops, and you want to talk about other things," Josh said about the shared hobby.
Bob added, "He would always beat me because he is much smarter than I am."
##
This story was included in the fall 2022 Developments newsletter