Two UArizona Graduate Students Receive American Geographical Society Council Fellowships
March 31, 2021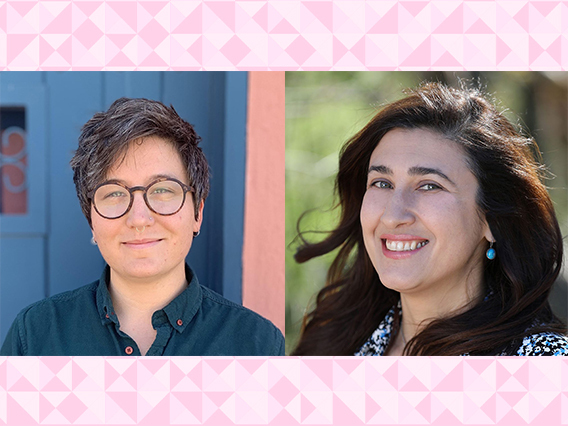 Eden Kinkaid and Özlem Ayse Özgür, both doctoral students in the School of Geography, Development & Environment at the University of Arizona, were awarded American Geographical Society 2021 Council Fellowships. Only four graduate students across the country received the fellowship.
The American Geographical Society, or AGS, is dedicated to the advancement of geographic thinking, knowledge, and understanding across business, government, academe, social sectors, and with teachers and students. Established in 1851, AGS is the oldest professional geographical organization in the United States.
The AGS Council Fellowship includes a $1500 scholarship to support the recipient in their pursuit of geographical knowledge, especially fieldwork. 
Eden Kinkaid will use the fellowship award to fund their research, Governing Crisis: A Political Ecology of Food Systems in the Time of COVID-19.
"This award will support my research on the impacts of COVID-19 on southern Arizona's food system," Kinkaid said. "Working with a team of collaborators, I am examining the effects of the pandemic on the food producers, distributors, and institutions that compose the regional food system. This research will document COVID-19's impacts on southern Arizona's food system, how various food system actors are responding to those impacts, and what broader lessons can be learned from this moment of crisis in food and agriculture."
Özlem Ayse Özgür's fellowship will help pay for the translation and transcription of her research, Effects of Community Gardening on Socio-Economic Wellbeing of Sub-Saharan African Refugee Women in Southern Arizona.
"The objective of this research is to investigate how shared activity spaces such as community gardens within community economy networks influence resettlement and socio-economic well-being of Sub Saharan refugee women in a neoliberal context by using mixed methods," Özgür said.
"Members of the American Geographical Society Council believe that supporting researchers who address contemporary issues is fundamental. To ensure the health of the discipline, we must support young scholars," said Marie Price, chair of the Selection Committee and president of the American Geographical Society. "We are delighted to fund four promising young scholars in their field investigations through the AGS Council Fellowships and we look forward to reading about their discoveries."
AGS will recognize the fellowship recipients during its annual fall symposium, streaming online November 15-19, 2021.
##
Content for this piece was taken from the AGS press release.