Understanding Iranian Languages and Persian Culture
Dec. 5, 2022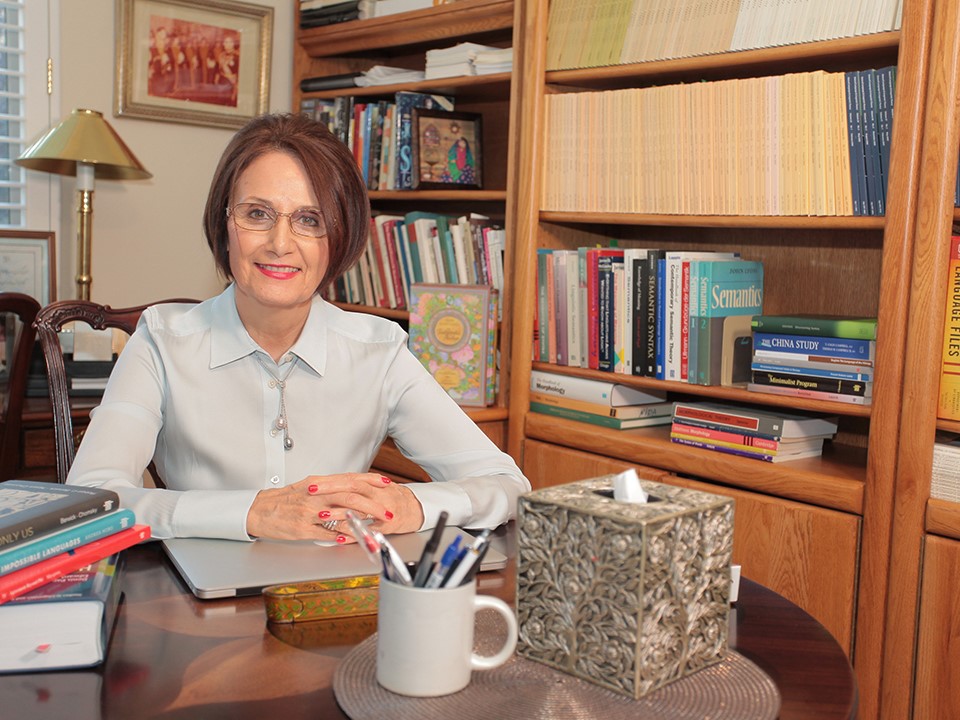 Over the past 20 years, Roshan Cultural Heritage Institute has invested $6.35 million at the University of Arizona, supporting the creation of the Roshan Graduate Interdisciplinary Program in Persian and Iranian Studies, as well as graduate fellowships and four endowed faculty positions.
Their most recent grant of $2.5 million – which comes from the Roshan Cultural Heritage Institute Fund, a donor-advised fund of the Silicon Valley Community Foundation – establishes the Elahé Omidyar Mir-Djalali Professorship in Iranian Linguistics and funds Elahé Omidyar Mir-Djalali Graduate Fellowships in Persian and Iranian Studies.
The professorship and fellowships are named for Elahé Omidyar Mir-Djalali, the founder and chair of Roshan Cultural Heritage Institute, a foundation focused on preservation, transmission, and instruction of Persian language and culture. Mir-Djalali, who was born in Iran, is a renowned linguist and expert in language education, cross-cultural communication, and Persian studies. Mir-Djalali received a doctorate in linguistics from Paris-Sorbonne University.
"This endowment will foster and fortify the graduate study of Persian and Iranian languages and linguistics and would place the university's Roshan Graduate Interdisciplinary Program as one of the largest and most prominent Persian programs in the U.S," Mir-Djalali said. "I personally am proud to have witnessed all the great work this university has contributed over the years to promote and preserve Persian language and culture and look forward to the impact it will have on future generations of faculty and students for years to come."
Analyzing Understudied Iranian Languages
The Elahé Omidyar Mir-Djalali Professorship in Iranian Linguistics, which is housed in the Department of Linguistics, is currently held by Linguistics Professor Simin Karimi.
Karimi first became interested in linguistics when she was six years old, and her parents hired a tutor to teach her French.
"The Persian language doesn't have any gender systems," Karimi said. "So, when I started French, I had to learn that the word for book was masculine and the word for table was feminine. I remember one night I couldn't go to sleep because I was thinking, 'Why should a table be masculine or feminine?' The linguist was born in me then."
Karimi now leads the National Science Foundation-supported Iranian Linguistics Research Group, consisting of faculty members and students at UArizona studying linguistic properties of Iranian languages, including Balochi, Ossetian, Pashto, Persian, and Sorani-Kurdish.
Karimi said that among those languages, Persian is the most studied, "but there has been very little examination of the other four. Even though they have a lot in common, there are interesting differences between them, which teaches us a lot about human languages."
Karimi added, "Modern linguistics is discovering the structure of human language in the mind. So, the more languages you look at, the more information you get."
Members of the Iranian Linguistics Research Group have been engaging in comparative and theoretical analysis of the structures of the five Iranian languages, gathering spoken language samples to describe the sentence structure (syntax), word structure (morphology), and sound system (phonology) of each language. The researchers are also looking at changes in the languages over time, likely due to speakers' contact with other languages.
Karimi is using funds from the professorship to hire a postdoctoral researcher for two years to collaborate with on research projects involving Iranian linguistics and to help with a two-volume book based on the results of the research.
"It's a huge, huge project," Karimi said. "So, what I need is a brilliant, energetic linguist to help me with it."
Karimi said receiving large charitable grants is unusual for linguistics programs. "This Roshan grant is a gift from heaven. I still can't believe we got this grant, which is extremely generous. I cannot be more grateful to be the recipient of this professorship."
Karimi is happy that the professorship is endowed, ensuring that there will always be a specialist in Iranian linguistics in the department. "The strong research team that has been created over many years will continue to work under the supervision of a linguist specialized in Iranian linguistics even after my retirement," Karimi said. 
Recruiting and Training Top Students
The Elahé Omidyar Mir-Djalali Graduate Fellowships in Persian and Iranian Studies are intended to help UArizona recruit and retain the best doctoral students focusing on Persian and Iranian studies.
The endowment is housed in the Roshan Graduate Interdisciplinary Program in Persian and Iranian Studies, or Roshan GIDP, which offers graduate degrees focusing on modern or classical Persian literature and culture as well as the history, religion, social organization, and politics of Iran and other Persian-speaking societies. The program benefits from the long tradition of Persian and Iranian studies in the School of Middle Eastern and North African Studies.
"Graduate training in this field is important because the Persian world is one of the oldest world civilizations with a rich history of arts, literature, philosophy, and science. And today, whether the current rulers in Iran open the country to the free world or not, that country remains a significant player in the region, with global ramifications," said Kamran Talattof, the Elahé Omidyar Mir-Djalali Chair in Persian and Iranian Studies, professor in the School of Middle Eastern and North African Studies, and the founding chair of the Roshan GIDP.
Mojtaba Ebrahimian, who graduated in 2020 with a Ph.D. from the School of Middle Eastern and North African Studies, received graduate funding from Roshan Cultural Heritage Institute when he was at the University of Arizona. Ebrahimian, who was born and raised in Iran, is now a preceptor at Harvard University, teaching Persian language and literature.
Ebrahimian's dissertation explored 19th-century Persian travelogues of Europe and their reflection of a new historical consciousness of Iranian and global history in Iran.
"I believe in order to better understand why the Iranian rulers even today harbor a negative view of the West, we need to examine how early-19th-century Iranian rulers viewed European civilization, as there are many similarities in their respective approach to and comprehension of the West," Ebrahimian said.
Ebrahimian said that funding from Roshan Cultural Heritage Institute was crucial since as an international student, he could not apply for federal student aid and was not authorized to work anywhere except on campus.
"Words cannot even begin to express how grateful I am for the support from Roshan Cultural Heritage Institute," Ebrahimian said. "Without the fellowship, I would not have been able to finish my program. Moreover, being an Elahé Omidyar Mir-Djalali Fellow afforded me the time and financial resources to prepare for the job market and apply for academic positions, endeavors that resulted in my current position at Harvard."
##
This story was included in the winter 2022 Developments newsletter.