Veterans Day Spotlight: Couple Pursue College Degrees after Decades in the Military
Nov. 9, 2021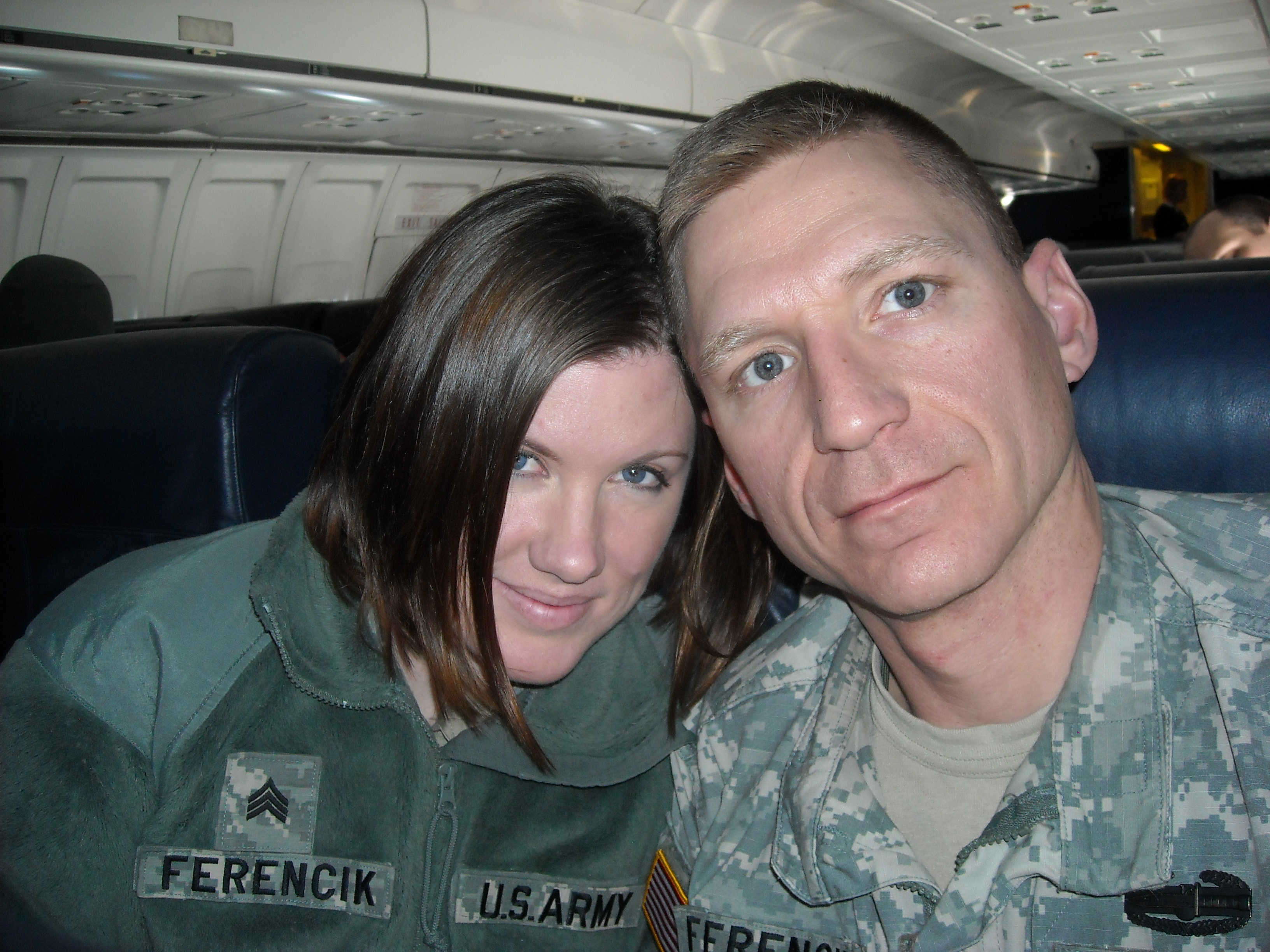 With a combined 48 years in the U.S. Army, Steve and Katie Ferencik have had varied jobs and high-level responsibilities. For them, serving in the military reflects their commitment to serving their community and their country. Now, they are attending the University of Arizona to finish college degrees – Steve in journalism and Katie in information science and technology – to not only help them advance to the next stage of their careers but also to set an example for their two daughters.
Military Careers
Steve spent 28 years in the Army, retiring in 2015 as a Master Sergeant. He was a Military Journalist for five years, a Cavalry Scout for five years, and a Maintenance Sergeant for 18 years. He was deployed to Israel, Iraq, and Afghanistan and stationed in Germany, South Korea, and at various locations in the United States.
As preparation for his job as a Military Journalist, Steve was provided with 20 weeks of intensive journalism training. He interviewed and took photos of soldiers for Army publications. During the Gulf War, he escorted civilian journalists covering the war.
"That's why I'm a journalism major now because I had that experience," Steve said.
Steve met his wife, Katie, in Iraq in 2003. "She was a truck driver. I was a mechanic," Steve said.
Katie graduated high school at 16. A talented musician, she received a scholarship to attend the University of Arizona to play the trumpet. She joined the Army instead. She drove the military's largest truck called the HET, or heavy equipment transport, before doing work in administration and human resources. A Staff Sergeant, Katie had six years of active duty and deployed to Iraq and Afghanistan.
Katie is currently an Army Reservist and has served in the military for more than 20 years. She's an Innovation Analyst as part of the 75th Innovation Command, helping startups who want to work with the military.
Katie also competed professionally for the Army in dressage, and in 2015, she won her class at the Arabian Sport Horse National Championships. Katie was preliminarily accepted into the U.S. Army World Class Athlete Program to train for a spot at the Olympics; however, her plans changed after she and Steve unexpectedly became foster parents to two girls.
Returning to School
After Steve retired from the Army, the couple moved to Tucson where Katie has family. He tried a few private sector jobs. The transition was jarring for a man who had supervised more than 100 soldiers.
"It was extremely difficult for me to come out of the military," Steve said. "To go from being a Master Sergeant where you're the guy in charge to being in a civilian job where all of a sudden I'm cog number three sitting over there in the cubicle."
Steve had amassed various college course credits throughout his career and started pursuing a degree in political science at the University of Arizona but found it wasn't a great fit. Around the same time, Steve and Katie adopted their two daughters and Steve became a stay-at-home dad.
He attended the vocational rehabilitation program through the VA and decided he wanted to finish his B.A. once and for all. This time he picked journalism for his major because he loves to write.
"I want to write about things that I know, such as leadership and current events," Steve said. "Ultimately my dream is to be a motorcycle journalist, covering product launches and motorcycle road trips."
Steve wanted to finish his degree to emphasize the importance of higher education to his daughters.
"I want to be able to tell the girls down the road when they're in high school that [college] is important and not to wait," Steve said. "And so it's not me telling them to do something that I didn't do."
In addition, Steve said not knowing the ins and outs of college makes it harder to mentor your kids when they attend, which he discovered when his older son – who served as a U.S Marine for four years – went to college.
Katie took a chunk of her college courses at Regis University in Colorado. When the pandemic hit, she decided it was time to finish her degree. In spring 2020, Ferencik transferred to the University of Arizona to obtain a B.S. in information science and technology.
For Katie, her degree is not only providing her with skills in a topic she loves, it is helping her take advantage of more opportunities.
"I've gotten to a certain point in my career when I'm doing really well but I need a degree to move on," said Katie, who is the first person in her family to go to college.
This past spring, Katie received second place in the Women in Data Science Tucson Data Blitz contest for her presentation "Data Science as a Method of Business Development." Her presentation examined how accessing data, asking the right questions, considering data from multiple viewpoints, and cleaning and analyzing data can help people make better business decisions. She has conducted research with the Tucson Roadrunners, Jackpot Veterinary Clinic, and the Tucson Police Officers Association.
Both Steve and Katie think the University of Arizona is a veteran-friendly school, from receiving support from their advisors and the VETS Center to the processing of their GI Bill benefits.
"They go out of their way to help," Steve said. "You can walk into that VETS Center in total confusion and you will get a half dozen people who say 'OK, Let's take care of this.' And then make sure it happens."
"I'm proud when I say I'm going to the UA," Katie said. "And I would gladly support any veteran who says they want to come to the UA because there is such a tremendous amount of support."