World-Renowned Linguist Noam Chomsky Joins Faculty at University of Arizona
Aug. 17, 2017
World-renowned linguist and social critic Noam Chomsky, who has been a regular guest speaker and teacher at the University of Arizona over the past five years, is about to become a permanent fixture on campus.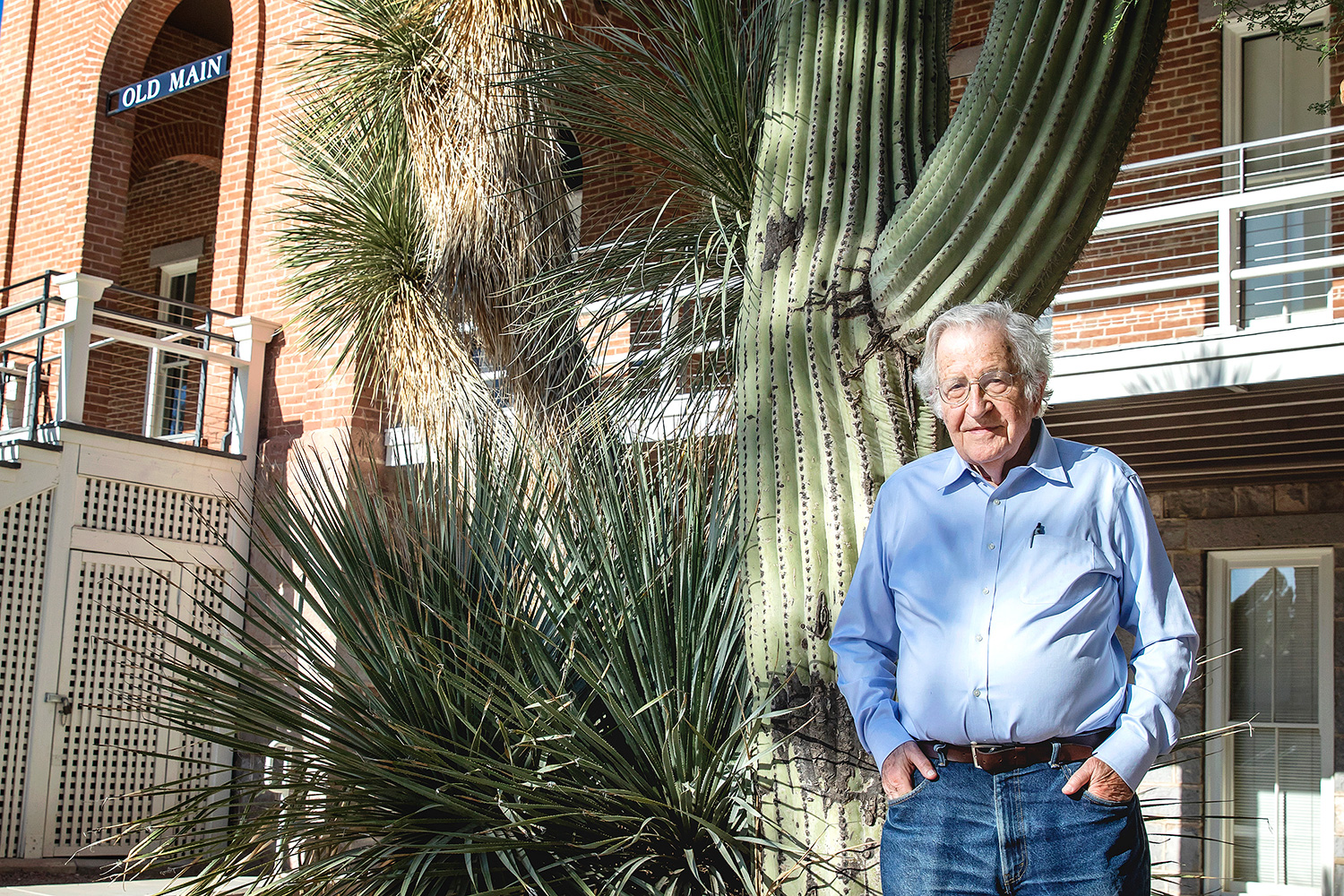 Chomsky has been hired by the College of Social and Behavioral Sciences as a laureate professor in the Department of Linguistics. He will also hold the title of Agnese Nelms Haury Chair in the Agnese Nelms Haury Program in Environment and Social Justice.  As part of his part-time faculty appointment, Chomsky will teach courses, give public lectures and be available to meet with students. Chomsky starts this fall and will begin teaching in spring 2018.
Considered the founder of modern linguistics, Chomsky is one of the most cited scholars in modern history. Among his groundbreaking books are "Syntactic Structures," "Language and Mind," "Aspects of the Theory of Syntax" and "The Minimalist Program," each of which has made distinct contributions to the development of the field. He has received numerous awards, including the Kyoto Prize in Basic Sciences, the Helmholtz Medal and the Ben Franklin Medal in Computer and Cognitive Science.
One of the most influential public intellectuals in the world, Chomsky has written more than 100 books, his most recent being "Requiem for the American Dream: The 10 Principles of Concentration of Wealth & Power." He has been the subject of seven biographies, has been interviewed countless times in popular media, and has appeared in over 20 films and documentaries.
"That Noam Chomsky would choose to come to the University of Arizona to write, teach and engage us in discussions of global importance speaks volumes of our campus, and we look forward to benefitting from his unmatched expertise and perspective," said John Paul Jones III, dean of the College of Social and Behavioral Sciences.
Jones continued by noting that, "Whether leading an advanced graduate seminar on theories of language – most of which bear his name – or by engaging undergraduates in discussions of contemporary economic inequalities, Noam's keen intellect, gentle presence and unwavering commitment to the wider social good is always in evidence. I'm delighted to be able to announce his arrival this fall."
Mary Grier, the Haury trustee, added, "The Haury Trust is thrilled that students, faculty and Tucsonans generally will have the opportunity to interact with one of the most influential scholars and thought leaders of the past 75 years. This is a rare privilege that may prove transformational in ways that we cannot presently imagine."
Chomsky's previous visits to the UA with his wife, Valeria Wasserman Chomsky, set the stage for his decision to join the faculty.
"We've very much come to appreciate the intellectual environment and the lifestyle," Chomsky said. "The linguistics department, which is excellent, happens to be full of former students of mine. In general, we felt that that the UA would be a good place to work and think and interact with people we like and can work with."
The charms of Tucson made the decision to relocate even easier.
"We fell in love with Tucson – the mountains, the desert," Chomsky said. "Tucson has an atmosphere that is peaceful and manageable."
UA Connections
Chomsky's connections to the UA linguistics faculty are deep and long-standing. Several UA linguists were his students or departmental fellows at the Massachusetts Institute of Technology, where Chomsky has worked since 1955 as professor of linguistics, then professor of linguistics, emeritus.
Tom Bever, Regents' professor of linguistics and psychology, was one of the first graduate students in the linguistics program started at MIT by Chomsky and Morris Halle. Massimo Piattelli-Palmarini, professor of linguistics and cognitive science, met Chomsky in 1974 when he organized a conference on biolinguistics — the first of its kind — with Chomsky and Salvador Luria, a giant of early molecular genetics and a Nobel laureate. UA linguists Heidi Harley, Andrew Carnie, Andrew Barss, Sandiway Fong, Diana Archangeli, Simin Karimi, and Mike Hammond have each spent time at MIT's linguistics department as fellows or students.
Chomsky is excited to be regularly teaching undergraduate students again, which he had not done for about 10 years until this past spring in one of UA's large-enrollment general education courses. That course, on politics and global issues, was co-taught with geography professor emeritus Marv Waterstone. Nearly 250 community members also enrolled in the course through the UA's Humanities Seminars Program.
Natasha Warner, head of the Department of Linguistics, is thrilled to have Chomsky join the faculty.
"Chomsky established modern linguistics. He's an awe-inspiring thinker," she said. "The opportunity for UA linguistics students to learn from him on a regular basis is simply astounding. I am especially excited about the opportunity for undergraduates to learn about language and linguistics from him."
"Professor Chomsky's insights into and analysis of language has inspired so many of us, and in fact he is the one who got me interested in linguistics in the first place when I was an undergraduate student," said Yan Chen, a graduate student in the Department of Linguistics.
The Chomsky Effect
Chomsky is credited with revolutionizing the field of linguistics by introducing the Chomsky hierarchy, generative grammar and the concept of a universal grammar, which underlies all human speech and is based in the innate structure of the mind/brain. He has debated the likes of B.F. Skinner, Jean Piaget and Michel Foucault.
"I am a Chomskyan syntactician. The name says it all," said linguist Carnie, dean of the UA's Graduate College. "The very paradigm I work in wouldn't exist if it weren't for Chomsky. He's not only reinvented the discipline once, he's done it multiple times."
"The importance of Chomsky's work cannot be overstated," said Ryan Smith, graduate student in the Department of Linguistics. "I am extremely excited that he will be joining our department not only because of his work in establishing our discipline, but also because of his continued important research into the nature of language and the human mind."
Chomsky has not only transformed the field of linguistics, his work has influenced fields such as cognitive science, philosophy, psychology, computer science, mathematics, childhood education and anthropology. Applications of Chomsky's work can be found in everyday life. He formulated the algorithm "context free grammar," which is part of most computer programming languages as well as programs that appear to understand language, such as Siri. He has challenged traditional notions of learning, emphasizing how much knowledge and behavior is "built in" to the child's brain, which influences how we teach children.
Chomsky the Critic
An ardent free speech advocate, Chomsky also is famous for his political commentary and has published and lectured widely across the world on U.S. foreign policy, Mideast politics, terrorism, democratic society and war. His media criticism includes the 1988 book "Manufacturing Consent: The Political Economy of the Mass Media."
Chomsky's fame has extended into popular culture, leading such fans as Bono of U2 to describe him as the "Elvis of academia." The Noam Chomsky Facebook page has more than 1.2 million followers.
Chomsky also has addressed social justice issues, including political engagement, environmental destruction, and the rights of Indigenous populations. 
Chomsky's work – both scientific and political – is not without its detractors, yet his stances on geopolitics, military force and political systems have energized those with opposing views to examine their conceptions of justice.
"His encouragement to the young and curious is to be persistent in looking to the hidden factors behind open phenomena, be they scientific, technological or political," Bever said. "We expect that his lasting role at the University will be a model that inspires students to think critically."