First Graduate of Dual M.A. in Bilingual Journalism and Latin American Studies: Julia Blumberg, '22
May 12, 2022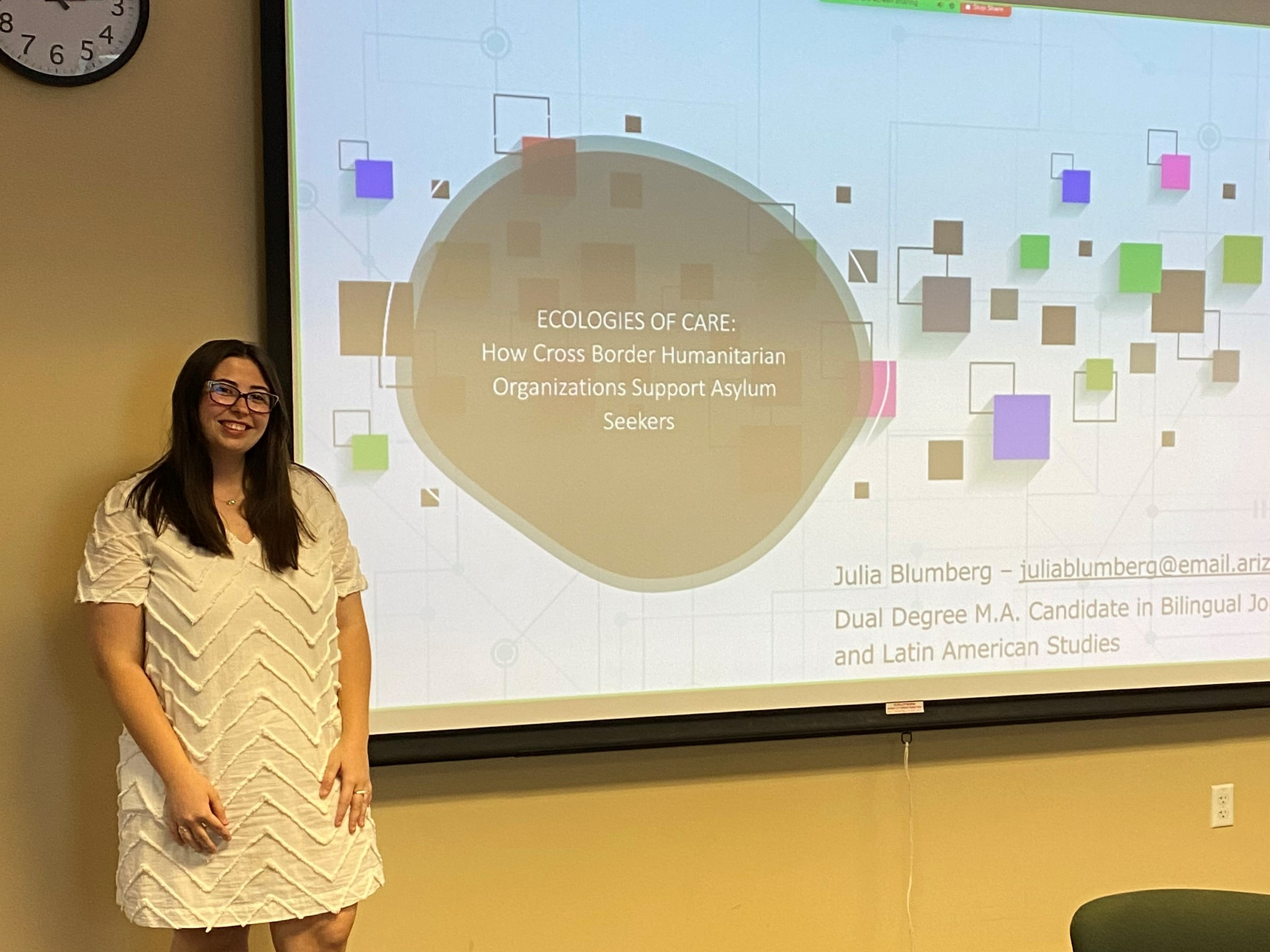 Congratulations to Julia Blumberg, the first graduate of the dual master's degree program in Bilingual Journalism and Latin American Studies, offered by the School of Journalism and the Center for Latin American Studies.
Julia's research focuses on human rights and U.S. asylum policy, and her final project was titled "Ecologies of Care: How Cross Border Humanitarian Organizations Support Asylum Seekers." The project documents and analyzes how local organizations have responded to the recent humanitarian situation as well as how they have been changed by it. Her research brings awareness to the work volunteers and activists are doing to support migrants and seeks to humanize the border reality.
Jessica Retis, director of the Bilingual Journalism Program, said the dual-degree serves students who want an immersive experience in bilingual global journalism — and who plan on working as professional journalists and/or researchers in Latin America or covering Latino issues in the United States. "Graduates will acquire a robust set of skills in both Spanish and English that will translate into a significant competitive edge in the professional and academic workplace." Retis said.
"Originally I thought teaching was going to be my career, however I was limiting myself. Pursuing this dual master's degree program has opened a world of opportunities I never contemplated," Julia said. "What stands out to me the most and what has been most impactful is the close-knit community in both programs. This has afforded me individualized attention and support." 
Julia is secretary of the National Association of Hispanic Journalists and president of the Latin American Studies Student Organization. She recently helped organize the 1st Annual Arizona Latin American Studies Symposium at the University of Arizona.
Julia received her B.A. from High Point University, majoring in International Relations and Spanish with minors in Latin American Studies and History. She also studied in Madrid (Universidad de Nebrija). She has traveled extensively, including in Latin America, which has influenced her interest in peace processes and forced migration.
After graduation, Julia would like to obtain international work, ideally in the State Department or the United Nations.
"I want to make a difference in the world, and I believe being a part of an organization like the United Nations can help me achieve my dream," Julia said. "However, in the short term I intend to build my skill set by perhaps running a non-profit or non-governmental organization for a couple of years using all the skills I've developed while at the University of Arizona."