Two SBS Students Receive 2022 Centennial Achievement Awards
Dec. 9, 2022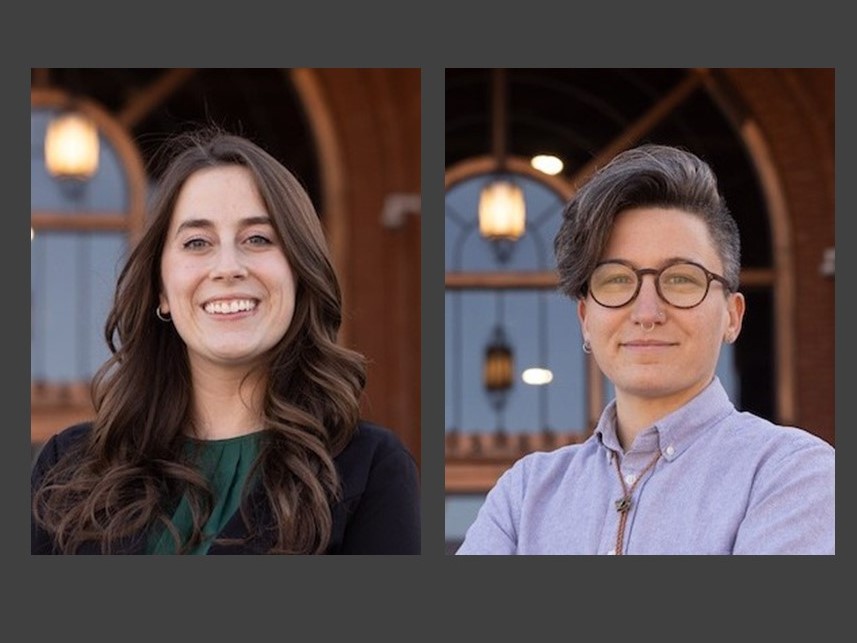 Congratulations to two students in the College of Social and Behavioral Sciences who have received a 2022 Centennial Achievement Award.
This year's SBS honorees are Madison Doser, a law major who aspires to work in human rights and health law to address inequity in health care acquisition, and Eden Kincaid, a doctoral student in the School of Geography, Development & Environment who researches food culture and urban development; philosophies of space; feminist, queer, and trans geographies; and art and geography.
Centennial Achievement Awards are presented to undergraduate students who demonstrate integrity, persistence, and contribute to their community. The awards are also given to graduate students in recognition of their outstanding achievements and perseverance in overcoming obstacles. The awards are presented by the Division of Student Affairs and the Graduate College.
Below are student profiles from the Dean of Students Office.
2022 Centennial Achievement Undergraduate Awardee
Madison Doser is graduating summa cum laude with a Bachelor of Arts degree with honors in Law, offered by the School of Government and Public Policy and the James E. Rogers College of Law, and Public and Applied Humanities with a Public Health emphasis.
Madison is a first-generation college student born in Boise, Idaho, and raised in Tucson. She grew up economically disadvantaged in a single-parent household with her twin brother. Madison has overcome many social and economic obstacles to her educational pursuits, yet made significant efforts to help others. She has tutored math students through Think Tank, worked as a volunteer notetaker at the Disability Resource Center, coached high school girls' soccer, and was a preceptor for the Introduction to Epidemiology course. Madison has also participated in recruitment as a Student Ambassador for the College of Humanities and was selected to serve as the University representative at the National Humanities Center Leadership Council.
Madison has participated in many public works projects to benefit her community. She has utilized her studies on governmental property takings to develop a project with the Tucson Museum of Art and Historic Block. This project brings attention to urbanization's impact on the displacement of Mexican-American and Hispanic communities in Tucson. She has also participated in research initiatives addressing increased heat waves in the U.S. Southwest resulting from climate change; and the impacts of incivility on online political discourse. Furthermore, Madison worked full-time at the American Public Human Services Association to develop proposals calling for national changes to maternal and child health policies during the summer of 2022 in Washington D.C. She is continuing this work remotely.
Madison was previously awarded Dean's List with Distinction recognitions, the Public and Applied Humanities Outstanding Enrichment Award for community service, and the College of Humanities Outstanding Senior Award.
Following her graduation, Madison is pursuing a law degree focusing on Human Rights and Health Law to address inequity in health care acquisition. She is particularly interested in women's reproductive rights and plans to advocate for women on a national level.
2022 Centennial Achievement Doctorate Degree Awardee
Eden Kinkaid (they/them) is a doctoral student in the School of Geography, Development & Environment at the University of Arizona. They are a human geographer with wide-ranging research interests. Eden has ongoing research and writing projects relating to food culture and urban development; philosophies of space; feminist, queer, and trans geographies; and art and geography. They have served as editor for two journals, The Graduate Journal of Food Studies and you are here: the journal of creative geography. Eden has received numerous awards to support their research, including awards from The National Science Foundation, Fulbright Program, Horowitz Foundation for Social Policy, as well as a PEO Scholars Award for outstanding academic accomplishments. Eden's work has been published in top geography journals, including Progress in Human Geography; The Annals of the American Association of Geographers; Transactions of the Institute of British Geographers; Environment and Planning D; Gender, Place, and Culture; Area; GeoHumanities; Geoforum; and The Geographical Review; and has been featured in various books. Their artwork has been published and exhibited in spaces at the intersections of geography, art, and gender studies.
Eden's contributions to geography and the university extend to their work advancing diversity, equity, and inclusion in academic institutions. As a queer and trans person, Eden has encountered various forms of exclusion in geography, including transphobia and a lack of queer mentorship, peers, and role models. These experiences have led Eden to become an outspoken advocate for DEI and minoritized people in the academy. To actualize these commitments, Eden has sought out training in DEI leadership (e.g., through the UArizona Inclusive Leadership Institute) and served in formal and informal roles to design DEI interventions and facilitate DEI dialogues in their professional spaces. Eden has also pursued and published research that advances DEI in geography, including a study on geography curriculum and its exclusions and various publications and presentations on the status of queer and trans people in the discipline.
After graduating from the University of Arizona in spring 2023, Eden hopes to continue this work and begin their career as a professor in Geography or Gender Studies.